Financial institutions today feel enormous pressure to keep up with the fast pace of change, launch headfirst into digital banking, generate innovation, and remain relevant – Application Programming Interfaces (APIs) are the anchor for these efforts.
Banks' tech stacks are typically split across several fintech partners that enable services such as their mobile application or payment technology, as well as a core provider that holds the institution's data. This segmentation often means performing routine system upgrades and new integrations which require time- and labor-intensive processes. However, implementing APIs to connect these separate provider technologies makes it easier for financial institutions to connect and aggregate data to share information across systems.
What really are APIs? They consist of a set of contacts and data models that constitute how FIs can interact with a database. Strong API management enables banks to take control of their own records, capitalize on real-time, accurate data from multiple systems and equip their partners, developers and internal stakeholders with the tools they need to innovate and operate smoothly.
Solving Pain Points by Leveraging APIs
APIs are the key to unlocking access to data, connecting it securely, and communicating it in a meaningful and timely way between financial institutions and their tech providers. More and more banks are recognizing the benefits of implementing APIs as 40% of them are planning to make investments in this technology in 2023.
APIs play a critical role in solving many of the common pain points banks and fintech face when managing the necessary myriad of connections required to do business today.
Integration Bottlenecks / Slow Time to Market
Without APIs, banks' core systems are isolated from data sharing. Although this offers the benefit of safeguarding the institution's data, this can also cause greater challenges when implementing new integrations and services and can lead to slow time to market when banks are aiming to roll out expanded capabilities.
However, instituting a well-designed API can enable banks to create a more agile digital infrastructure that increases customer access to popular integrations. Open APIs, for example, can help streamline lengthy processes, enable quick integration processes, and allow banks to easily shop the latest fintech solutions in the market and stay up to date on digital banking trends.
Compliance and Security Risks
When incorporating multiple integration partners, it's often time-consuming for financial institutions to properly vet and ensure each fintech follows regulatory compliance standards and completes due diligence. Failure to do so creates greater compliance and security risks for the institution if standards are not consistently met.
Adopting API gateways enables financial institutions to leverage a standardized code base that reduces the complexity of their system. By centralizing the delivery of services, institutions can seamlessly boost the performance of requested data and enhance security safeguards.
Challenging to Bring on New Fintech Partners
Multiple direct-to-core integrations make it more difficult for banks to strategically pivot and bring on new partners as fintechs often face roadblocks integrating directly to bank cores. More fintech partners mean a wider array of service offerings that allow financial institutions to increase revenue, remain competitive, and consistently optimize the customer experience.
By acting as an interface between the fintech solution and the bank's core system, APIs enable banks to experience smoother integrations. APIs effectively minimize technical errors, reduce time spent on projects and maximize service quality offered to account holders.
Difficulty Gaining Data Insights Across the Enterprise
A rising trend in the world of digital banking is finding smarter uses of customer data to power tailored customer experiences. However, disparate data models often pose challenges for banks when attempting to glean customer data insights across the enterprise.
APIs are designed to connect banking systems and enable financial institutions to sync all data and ultimately gain improved control over their records. Ensuring that customer information entered once can be transferred to the institution's key systems means that banks can earn 360° views of their account holders and leverage that information to identify cross-sell opportunities, create more engaging digital experiences, grow customer relationships, and increase revenue.
Looking Ahead
Leveraging APIs is a critical strategy for unlocking banks' full competitive potential in today's digital marketplace.
APIs are crucial drivers of digital transformation and important innovations necessary for streamlining fintech partner integrations, rolling out new capabilities, offering better access to customer data providing an enhanced customer experience, and ultimately, staying relevant within the fast-moving tech industry.
Lee Farabaugh is the co-founder and president of Core10, a provider of API integration and SaaS implementation solutions serving the banking, fintech, and financial services industries. She is responsible for revenue generation, stewarding company culture, and creating partnerships with industry and non-profit partners. Farabaugh currently leads the Banking and Financial Solutions business line, where she oversees operations, services delivery, community relations, business development, sales, strategic account management, and marketing. Farabaugh was recently appointed as co-Entrepreneur in Residence for Project Fintech, an initiative of LaunchTN and Nashville Entrepreneur Center. Outside of her professional life, Farabaugh is an avid cyclist and enjoys volunteering within her community.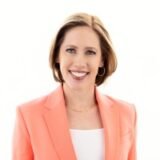 Lee Farabaugh