Advancements in digital payment technologies are driving the E-commerce ecosystem, showcasing a strong rise in the upcoming decade. According to Statista, the total transaction value of digital payments across the globe is around USD 8.5 trillion in 2022, out of which a big chunk, approx USD 5.5 trillion transaction value comes under the E-commerce umbrella.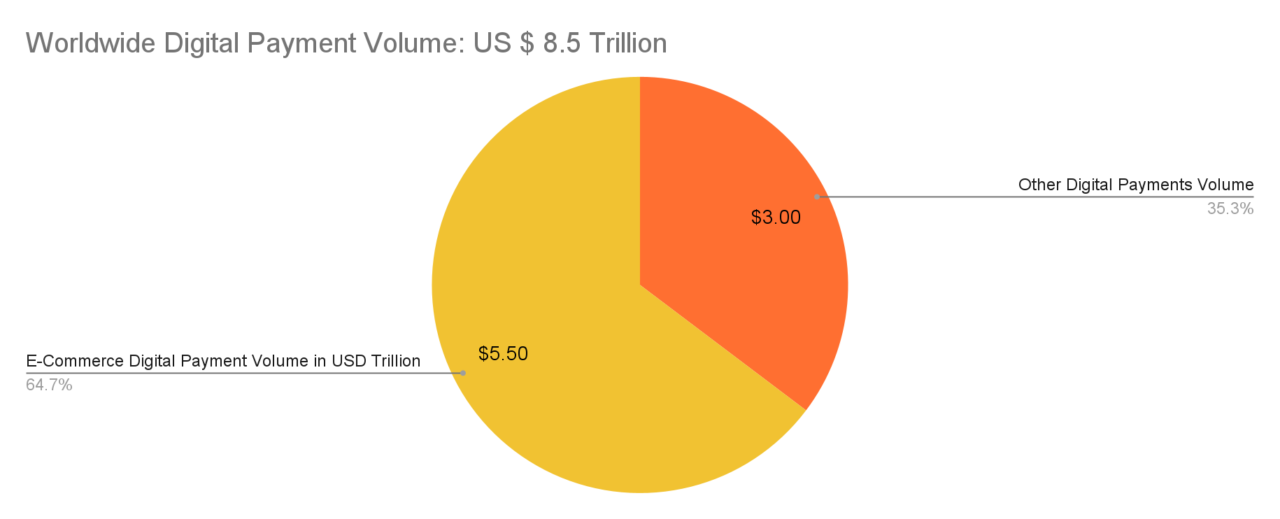 This blog will help you figure out the online payment system's role in the boom of the E-commerce industry and a way forward.
Why is E-commerce booming
E-commerce and Digital payments go hand in hand. Streamlining consumer buying patterns and providing them with more personalized buying experiences are boosting the E-commerce ecosystem.
24/7 availability of products and services on E-commerce platforms and multiple digital payment modes are attracting more buyers and sellers in this ecosystem
The entry of third-party non-banking entities also facilitates digital payment options such as Apple Pay, PayPal, and Dwolla.
Digital wallet payments or directly linked bank accounts offer buyers & sellers an easy medium to send and receive payments
Increased safety features in online transactions and more secure authentication are boosting E-commerce businesses
What includes in E-Commerce & Digital Payments
Following are the four major models that come under E-commerce & Online Payments.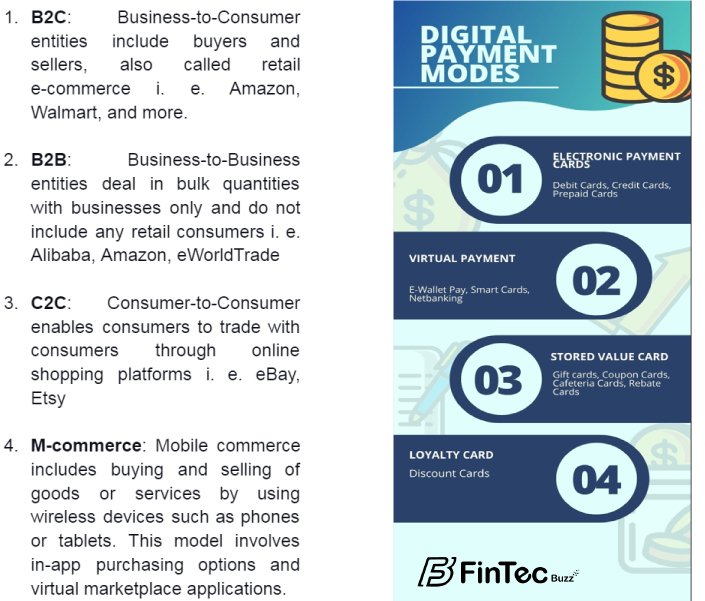 "Digital payment brings more convenience, efficiency, and flexibility to the consumer than cash payments"
Benefits of Online Payments in E-Commerce
Ease: Online shopping through digital transactions saves time & cost and eases buyers' shopping experience. Similarly, AI-based personalized shopping experiences are attracting Gen Z.
Edge: Discounts, coupons, vouchers, gift cards, and offers create a more competitive market and give an upper hand to consumers. Banking as a Service (BaaS), i. e. non-banking or third-party payment gateways such as PayPal, Apple pay, Authorize.Net, and Stripe provide a variety of payment options to consumers. Competition among online payment service providers gives an edge to consumers in the E-commerce market.
Seamless: Buy Now Pay Later platforms, Wallet Payment options, and Electronic Payment Services (EPS) are cheap, easy to opt for, and safe during online shopping. Moreover, widespread internet access, high mobile use, and quick buying & check out enable seamless transactions.
Boundless: E-payment ecosystem consists of e-commerce giants, entrepreneurs, and retail stores. In addition, online shopping is not restricted to one particular currency or specific geographical boundaries.
Reliable: Eliminates the risk of physical money handling, storage, and possibilities of theft. Furthermore, digital transactions restrict illegal incomes and the possibilities of tax evasion. Tax authorities and other monitoring agencies can easily track the trail of online transactions.
Progress: Diverse segments of online shopping & payments help increase consumption, generate employment opportunities, promote local businesses, and strengthen cybersecurity that ultimately drives economic growth and development.
Security Constraints
Increasing risk factors like online fraud or breach of information are obstructing the use of digital payment systems by merchants and consumers
The rising number of frauds and cyber crimes in online transactions are affecting the buying patterns of consumers
Technical glitches and server issues of payment gateways delay transactions
Phishing and backdoor attacks are highlighting lack of protective and preventive measures
Way Forward
Fraudulent transaction-related issues must be reported and resolved within a specific period. Consumers can opt for redressal mechanisms through established channels for e-commerce entities and banking institutions.
Banking or Third-party wallet services must ensure reliable payment services to ease the consumer experience. For example, in the USA, the incorporation of 3DS2 (3D Secure 2.0) is an authentication solution to secure customers' online card payments.
Lower transaction charges and more customized banking solutions help attract customers. In addition, the installation of robust security software systems with advanced tech solutions like AI, Cloud, and Blockchain can boost the e-commerce industry. In the future, retail online shopping may accept cryptocurrencies for online transactions.
Strengthening of post-sales services like the return of goods, transit damage returns, refund rules, and provision of insurance facilities can promote more digital payments in E-commerce.
Bottom Line
Rapidly transforming and more streamlined cybersecurity in online transactions is encouraging more buyers to switch to online shopping. In addition, optimum use of AI-based personalized UX and robust complaint redressal mechanisms are helping the E-commerce ecosystem to grow. Thus, secure online transactions are building a substantial network of sustainable supplies to serve worldwide consumers, resulting in the growth of the e-commerce industry.
For more such Updates Log on to https://fintecbuzz.com/ Follow us on Google News Fintech News