With the goal of providing equal access to the financial markets, Oi-Yee has brought about market disruption by leading ADDX. Follow the trail to know more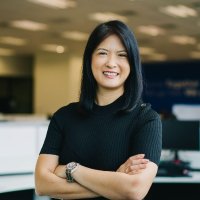 Oi-Yee was appointed CEO of ADDX in March 2022. She has 20 years of capital raising and M&A advisory experience. Before joining ADDX as Chief Commercial Officer in January 2020, Oi-Yee was with UBS for 6 years and was Head of Investment Banking for UBS Singapore. She joined UBS from Morgan Stanley, where she was Head of Singapore Investment Banking. Prior to Morgan Stanley, she ran the Southeast Asia real estate investment banking franchise for Nomura Singapore. She started her investment banking career with Citigroup, covering Singapore corporate and real estate clients. Between 2006 and 2008, Oi-Yee was Senior Vice President, Strategy and Business Development, for Parkway Holdings, the largest healthcare company in Asia, and helped create the Parkway Life REIT. Oi-Yee graduated from Nanyang Technological University with a Bachelor of Accountancy. She also has a Master of Business Administration from Manchester Business School.
1. Can you tell us about yourself and your career journey?
I've had an incredibly exciting career in investment banking over the course of more than 20 years, with UBS, Morgan Stanley, Nomura, and Citi. I successfully brought to market a number of large and complex deals, including the IPO of Suntec REIT, Singapore's largest integrated commercial development at the time.
Investment banking continues to be a pathway that nurtures some of the most promising talents in banking and finance today. I would strongly recommend it to any young person looking to challenge themselves.
Over time, I started to see the need for change in some areas of banking. For example, I was able to see many high-quality investment deals as a banker, but I was unable to access those deals if I hypothetically wanted to as an individual investor in my private capacity. This was mainly because of the way the private capital markets are structured – they are not designed to serve individual investors efficiently.
2. Can you please share, what drove you to leave behind a long career in investment banking and begin with a fintech start-up?
ADDX was founded at the nexus of two important trends that will drive deep transformation in the capital markets over the next 5 to 10 years.
The first is the shift in capital from public to private markets, as public yields fall. Institutional investors have increased private market or alternative asset allocation from 20% to 30%. Individuals aren't able to make the same shift, because they are not getting access to investment opportunities. A technology-driven private market exchange like ADDX can solve that problem.
Second, I saw the rise of blockchain technology and its application across financial services outside of crypto. Blockchain is efficient and can be used to power a platform that serves individual investors at scale, fractionalizing private market deals and making secondary trading possible.
A revolution is happening. The parallels I see here are with the REIT revolution and the advent of electronic trading before that. Both of these prior revolutions democratized parts of the capital markets for individuals. They created a massive amount of wealth for a broad segment of investors. The same is happening today, with blockchain helping individuals take part in private markets, so it is no longer exclusive to institutional investors.
When ADDX came knocking on the door, it didn't take long for me to say yes. My experience in banking told me that the value proposition of ADDX had great potential to bring about impactful change that will benefit the many and not the few.
3. Could you tell us more about ADDX and how the company has evolved over the last couple of years?
ADDX was founded in 2017. With seed funding from Singapore Exchange (SGX), we succeeded in building a platform that entered the Monetary Authority of Singapore's fintech regulatory sandbox. In February 2020, ADDX graduated from the sandbox with licenses to issue, customise and operate a secondary exchange for tokenized securities.
In January 2021, we closed a Series A US$50 million funding round, with investors such as the venture capital arm of Japan Investment Corporation and the Development Bank of Japan Inc coming on board as shareholders.
Our Pre-Series B funding round in May 2022 added many more financial institutions to our cap table – the Stock Exchange of Thailand (SET), UOB, Hamilton Lane, and Krungsri Finnovate, the corporate venture capital arm of Krungsri Bank in Thailand.
Our company has grown from a 10-man team in the early days to over 120 full-time employees, and we are still expanding.
We started out serving individual investors directly through our fully digital platform. Since 2022, we have also been serving wealth managers like private banks, brokerages, and external asset managers through our enterprise product, called ADDX Advantage. We are reaching investors via different channels, meeting them where they are in order to democratize private market access for them.
4. Who is your target audience and what do they need to know before they invest in the ADDX platform?
ADDX is open to accredited investors in any country except the US. We currently serve accredited individual investors from 39 countries. Our primary target clients are high-net-worth individuals (HNWIs) who are not well-served by private banks and other financial institutions. They tend to have a net worth between USD 2 million and 20 million. We also serve accredited corporate and institutional investors such as family offices.
At a time when returns in the public markets are declining, our advice to investors is to develop a good understanding of portfolio diversification and how private market investments can make one's portfolio more resilient. Most of our investors tend to be unfamiliar with private markets – such as private equity, hedge funds, and private real estate – because it is a space that was previously inaccessible to them.
Investor education is therefore a key priority and ADDX has committed significant resources to produce content that can help investors grasp critical concepts relevant to the private markets. We are making this content accessible across various mediums, including videos, explainer articles, and webinars.
5. How do you look at the role of transforming technology in the wealth management industry? Can you shed some light on digital securities investing and how ADDX is assisting its clients?
A report by global consulting firm BCG and ADDX, released in September, forecasts that asset tokenization, powered by blockchain technology, will expand into a US$16.1 trillion business opportunity by 2030. Wealth management is a key part of this business opportunity.
Private market issuers traditionally rely on manual processes for custody, compliance, and asset servicing such as dividend or coupon payments. They, therefore, set high minimum investment sums due to the high costs they incur per new investor. ADDX's blockchain and smart contract technology allow individual investors to access private market investments at a fraction of the traditional minimum size. For many of these individuals, the private markets would previously have been out of reach for them – as the US$1 million minimum investment for a hedge fund, for example, would have taken up too large a share of their portfolio. Through ADDX, investors are able to participate in private market investments for just US$5,000.
Blockchain technology also allows secondary trading at scale, providing investors with an exit option, which adds significant value given the illiquidity of private market investments in the traditional space.
For issuers, the benefit lies in access to previously out-of-reach capital, which could potentially enhance asset value. Companies have other capital-raising options, aside from going to public markets. They also enjoy a lower cost of fundraising, a lower minimum fundraising threshold, and a faster speed to issuance.
6. How does ADDX manage & protect investors' funds?
ADDX has a listing team that reviews all issuer applications to ensure that issuers and offerings meet admission requirements for listing on ADDX. We also have a listing committee comprising industry veterans that considers the result of each review before a listing takes place.
We use a private, permissioned blockchain not connected to the public blockchain, which means our network is less vulnerable to attacks. Our digital securities are also non-transferrable and non-tradeable outside our platform. This reduces the incentive for theft. Blockchain technology also allows for instant settlements. This lowers counterparty risk when compared to the T+2 or T+3 settlement in the traditional capital markets.
7. What are ADDX's plans for expansion and growth? Where do you see it in the upcoming years?
ADDX began full commercial operations in February 2020, with a focus on expanding our individual accredited investor base. In 2022 so far, this base of investors has grown by around 80%, year-on-year. We are also broadening our focus to serve institutional and corporate investors, under a business-to-business-to-consumer (B2B2C) model. Institutions such as digital wealth manager StashAway and brokerage CGS-CIMB were among the first to sign up for this service, and more are in the pipeline.
We are also exploring overseas expansion, in markets where our key partners are. We plan to enter more markets both by working with partners and by obtaining new licenses. ADDX is currently regulated by the Monetary Authority of Singapore.
8. What motivates you to get up every morning? What do you take pride in when it comes to your company?
What drives me every day is seeing our mission of making investing fairer become a reality more and more each day, as more investment deals are launched, and more investors – whether individual, corporate or institutional – are onboarded every day. Most individual investors are not well-served on this front by existing channels, and ADDX is giving fractional access to private market products to enable portfolio diversification. In the long run, this means wealth creation for these investors.
Having been a part of both the traditional finance and fintech world, my journey in ADDX has been an invigorating one. Every day is different in the start-up world – there are new problems to solve and new innovations with which to solve them.
Given that the space ADDX is in is a nascent one, I take pride in how we are charting a new path for ourselves, and how we have brought change to the capital markets in such a short time.
9. Where do your passions lie? What do you think defines you as a person?
Outside of work, family is important to me, as is pursuing hobbies. I enjoy playing tennis. I also love to ski when I can travel.
I currently serve on the boards of two schools in Singapore. At the same time, I feel strongly for the arts, community groups, and charities. I am on the board of the National Kidney Foundation as well as the Philanthropy Committee of Community Chest. Earlier this year, I also chaired a fundraising committee for an NFT charity auction event called "Blockchain For Good" by the Blockchain Association of Singapore and a fund by the National Trades Union Congress (NTUC) in Singapore. This overlapped somewhat with my work, so it was an interesting opportunity.
Multiple roles define me – I am a fintech leader, board member, wife, and mother to two beautiful and talented daughters.
10. What is the most significant piece of advice you would want to give to company leaders?
Employees are the greatest assets any company has. One piece of advice for company leaders is to engage with employees and give them a compelling reason to look forward to coming to work each day. At ADDX, we do this by both talking and walking our mission well. The team has a deep sense of purpose and knows they are shaping the world for the better.
Democratizing private markets means more resilient portfolios for every investor. A portfolio that is diversified between public and private investments leads to better financial security. It also redistributes wealth from institutions to individuals, while at the same time directing capital to the most efficient projects, which generates economic growth and jobs.
Since ADDX was founded, we've seen a high level of buy-in to this mission from employees, which we maintain through frequent company-wide town halls to update them on how each employee's individual work ties in with other teams and contributes to the broader mission. This also fosters collaboration and increases employee engagement.