As CEO of Nexpay, Uldis is responsible for the company's strategic direction. Delve to learn how he is fulfilling this role through standout leadership.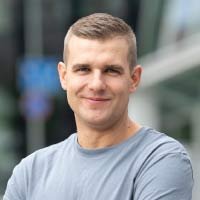 Uldis Tēraudkalns is the CEO of Nexpay, a Lithuanian fintech startup providing banking infrastructure for digital businesses. Uldis counts more than a decade of experience working in finance as well as managing venture investment, as a result of which he has served on the boards of different companies. Uldis holds a Master's degree in Finance from the Stockholm School of Economics, Sweden, and is one of the hosts of The Pursuit of Scrappiness, a leading business and startup podcast in the Baltics.
1. Can you tell us more about yourself and how did you get into the fintech industry?
I've always had an interest in business and got my bachelor's degree at the Stockholm School of Economics in Riga. This school was something of a hub for young startup founders in the Baltics, so from very early on, I was excited about all this entrepreneurial energy in our region. I got my start working in banking & finance, and that's where I had my introduction to the Nexpay team. I had a board position here and as the business transformed after 2017, I was asked to come on as CEO.
2. How do you describe Nexpay and its next-gen fintech solutions?
Nexpay is a fintech licensed by the Bank of Lithuania and operating across Europe. We provide payments and other banking services and infrastructure for our clients – these are digital businesses working in forex, gaming, payment processing, digital assets, and many other industries.
3. How are Nexpay services handling crypto assets?
We offer businesses IBAN accounts with SEPA transfers. While we do not provide digital assets exchange services ourselves, we have built partnerships that allow our clients also to access them if needed. More often, digital asset exchanges would be one of the categories of customers that Nexpay serves. We tend to avoid the terms 'bank' and 'neobank,' if only because they can be misleading to the public. I suppose it's a fine line between 'being a bank' and 'offering banking services,' but Nexpay doesn't handle traditional bank accounts with payment cards, savings accounts, credit, etc. We only offer payment accounts for businesses, and we have found a niche because our team is, to some degree, 'crypto natives' from the world of digital assets and currencies. We understand the unique challenges in this industry and work actively to promote a healthy and robust crypto future.
4. Could you give us a brief idea of what Nexpay offers while handling business accounts?
We provide API integration, allowing businesses with substantial payment volumes to handle day-to-day transactions easily. For example, some of our clients are financial institutions with hundreds of daily transactions, which would take considerable time and effort to handle manually. Now Nexpay is helping over 600 businesses build the future of money with a range of payments and accounts products. Over the last year, we have introduced several improvements to our service's usability. Next to EUR IBANs and SEPA payments, future upgrades will include new currencies and payment methods.
5. Which industries or activities does Nexpay support? Does it support individual entities too?
Nexpay is working with personal accounts too, but this is a minuscule portion of our business. We will continue to serve private individuals that are related to our business clients and high-net-worth individuals. Our services are used primarily on a wide range of businesses, such as digital assets exchanges, payments providers, law offices, forex brokers, gaming, and many more. Thanks to our team's expertise and experience, we are better suited to serve digital businesses, working in innovative industries that traditional banks are not typically interested in.
6. Can any person open an account in Nexpay or is there any list of countries to access account services?
To date, Nexpay has processed over €7 billion in transaction volume, operating in more than 30 countries across a range of different industries. We primarily serve clients from Europe but are also open to select countries outside Europe. Please check out this blog post on our website for the full details.
7. What is that one thing that assures a person about funds security at Nexpay?
Nexpay UAB (registration code 304708124) is an authorised Electronic Money Institution (EMI) holding a license from the Bank of Lithuania (license No. 18). This means that Nexpay as an EMI abides by strict rules and reports regularly to the Bank of Lithuania. All customer funds are kept in segregated client accounts within the Bank of Lithuania, in the European Central Bank system, giving our clients a very high level of security.
8. What's the best thing about working in the fintech industry?
There's a lot of regulation, economics, and some of the other more analytical aspects of fintech. But in the industry, we also care about the changing definition of money, people's attitudes to money, and how we can use technology in new ways in this work. All of this gives a vast scope for creativity and finding out-of-the-box solutions. And it's not about money or technology anymore; it's primarily about people. Our partners and clients include a large number of smart, energetic, entrepreneurial, and friendly people, and working with them is very exciting and intellectually stimulating. Human relationships and creativity will always be above dry numbers and calculations. We definitely need to create more opportunities for networking to drive the industry forward.
9. Tell us a bit about your culture. What makes Nexpay's culture unique?
Our team, already over 50 people, is constantly expanding and growing.
Fintech is a fast-changing environment, and we are confident that we have a team of professionals who are interested in helping the digital asset industry grow in a healthy way.
We work hard to help each member of our team reach their full potential and creativity, just as we care about the mental health of our employees.
We have many corporate traditions. For example, we recently implemented the annual participation in the Vilnius Marathon and the Riga Marathon (something of an inter-office, friendly rivalry at Nexpay). As we have offices in both cities, the tradition is that people from the other offices come to the hosting city's marathon, and the local team shows them around the city before the race, as well as maintaining bragging rights about which city might be more beautiful. There are a number of things like this that help keeps us together and let off steam.
10. Could you give us a sneak peek into the next growth phase of Nexpay?
We are going to offer our customers a significant expansion of the product range with different payment methods, currencies, and other financial products. Our strategic goal is to become the best B2B payment provider for digital business in Europe and, in the longer term, beyond.
11. Which motivational quote do you live by to achieve more at work?
I'm not a big fan of motivational quotes, but I always enjoy reading biographies of people who have succeeded for inspiration. One such innovator who definitely left his mark on business history was Henry Ford's famous quote, "If I had asked people what they wanted, they would have said faster horses." If this man hadn't gone against the mainstream, we'd probably all still be riding fast horses on paved streets. Working with the digital assets industry today, it is just as essential to think broader as the founder of the Ford Motor Company did. For me, it's fascinating to understand that the most incredible and exciting things and solutions in this world might not have been invented yet, and you might be the one who dares to go down the road of designing them.
12. What is the biggest piece of advice you would want to give to company leaders?
I don't think there are any universal "success manuals" that you must follow to succeed. Everything is very individual. Listen to your intuition and the people around you, take advice from market experts, and find time for activities unrelated to your core business. It really helps to switch your brain and allows new insights to be born. For example, around two years ago, I agreed to participate in a very unusual experiment for me – to co-host the podcast Pursuit of Scrappiness for Baltic funders and startups.
What started as a hobby has now turned into over 100 podcast episodes, which has become a genuinely influential networking platform in the region and beyond. Among our guests was the founder of Mindvalley Vishen Lakhian, and even Intel's CFO, David Zinsner. So my advice is to keep your mind open to new ideas and opportunities.