Although financial institutions continue to expand their product lines to provide unique investment opportunities for the experienced investor, diversification of products and opportunities for new investors in the industry allows for exponential growth. Likewise, alternative investing has become more attainable to these new investors. The typical investor is now savvier and proponents in the financial industry have the opportunity to pursue these new investors to continue growth within all aspects of the financial industry.
Introducing diverse newcomers to a platform where they can begin their investing journey is essential to continuous industry growth. As they establish themselves within the financial industry, businesses have the opportunity to help them grow. Easy-to-use platforms will support faster, new industry growth while also expanding access to investment opportunities to these newcomers.
Our beginnings
Inclusive investing is personal for me. I was raised in Africa and as a young man emigrated to the United States, where I found a world of opportunities that have allowed me to spend more than 30 years in commercial banking. My experience has shown me that everyone deserves the opportunity to maximize their investment earnings and watch their capital. Diversification of investing is the next step in helping more people gain access to financial health. With expanded opportunities and industry commitment to providing access, the potential is unlimited and new investors can be reached.
Expanding access to investing
Providing alternative paths to grow wealth is a priority at AVANA. Through the development of innovative investment platforms, we've created a more accessible path to help new investors strategically invest their money.
This includes young adults who want to invest in companies that share their values about the environment, older adults seeking to invest in community projects that pay dividends, and those who have been previously locked out of opportunities. Allowing more diverse investors into the field is personal to me. At AVANA, I have worked to develop platforms that give minorities the opportunity to be at the center of the customer base. Consider the growing influence of women in Saudi Arabia. Opportunities for them in business positions are growing. As a father, my motivation behind creating these opportunities was teaching my daughter how to invest.With education and accessibility to investments, women and other under-represented investors can grow wealth as co-investors in the Middle East and around the world.
Co-investing is a practical way to attract and educate new investors and it is the core of our new platform EqualSeat™. It was developed to simplify the process and democratize returns for retail investors. In developing this platform, we knew we had to find a way to overcome barriers to entry of new investors by reducing risk, keeping investment minimums low and creating a simple process.
EqualSeat™ checked all the boxes by focusing on commercial debt projects for small and medium-sized businesses that were easy to understand, such as hotel renovations and solar panel installation. To ease investor concern, we targeted low-risk projects that have been vetted and financed by institutional investors. Then we took these deals and put them on the new EqualSeat™ platform to give retail investors the ability to co-invest with little risk, low minimum investments and dependable monthly cash flow.
Diversification of the investment industry is crucial to promoting growth and by removing barriers for prospective investors, AVANA believes we can help more people preserve wealth. By focusing on new, more diverse investors, the industry will be better equipped to continue expansion with new lending options. With the rise of alternative investing and the widespread knowledge of how impactful investing can be in one's life, we must facilitate a space for new investors to learn about their individual financial options.
Why diversity in investing is the future
As society continues to evolve, the commitment to diversity and inclusion efforts will continue to grow. By reaching a more diverse clientele, the opportunity exists in the financial industry to reach a broader audience with minimal investment experience. Gaining a customer early on their investing journey can allow your company to secure that customer for life. As an industry, we must be able to cater to different and more diverse audiences by providing accessible learning opportunities, platforms to make investing easy for the everyday person and flexibility with their investments.
At AVANA, we have developed various online platforms that cater to different types of investors. By doing so, we allow our clients to grow within our company. As they invest more capital and diversify their investments, we have a platform that can suit these investors' needs.
Looking to the future
Diversification of the industry will be a lengthy process as potential investors continue to become more educated on their investing options.
Within the financial industry, it is worth exploring the opportunities that diversity and inclusion efforts bring.
Providing a space that allows investors to feel comfortable trusting your company with their investment regardless of their background is essential to growth within a company. Responsibly educating new investors as they begin their financial journey has the potential to impact and grow your business.
About AVANA Companies
With $1.1 billion in assets under management, AVANA Companies is dedicated to stimulating local economies and contributing to clean energy development. AVANA is headquartered in Glendale, Ariz., USA, with regional centers of excellence in Pune, India and in Manama, Bahrain, and serves small business owners and institutional and UHNW investors across the United States and globally.
About EqualSeat™
EqualSeat™ is an Environmental, Social and Governance(ESG) commercial debt investment platform. It is designed to level the playing field for individual investors with opportunities to co-invest with institutional investors. All investment opportunities create jobs, increase clean energy resources and provide investors reliable returns. EqualSeat™ has its own origination funnel of loans to feed the pipeline of investment opportunities and is self-sufficient with loans that have been rigorously underwritten and fully funded by sister companies AVANA Capital and LendThrive ™. EqualSeat™ investors can measure their social impact seeing how many jobs are created and clean energy generated as a result of their investment. EqualSeat™ investors measure their investing impact with metrics like number of jobs created, the amount of clean energy generated using indicators like air quality, water quality, carbon emissions, energy efficiency, waste management and others.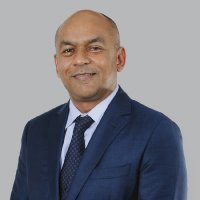 Sundip Patel is co-founder and chief executive officer of AVANA Companies, the holding company for the ESG fintech platform serving entrepreneurs and investors since 2002. Sundip oversees LendThrive™ and EqualSeat™ platforms for lending and investment respectively focused on supporting sustainable growth in communities. LendThrive™ was created to provide frictionless capital to small businesses in America while EqualSeat™ was created to democratize the returns from the small business loan investments. Sundip earned an MBA from the University of California, Irvine in 1998 and bachelors' degrees in economics, finance and accounting from California State University at Fullerton in 1990.
Sundip Patel