Global economies are experiencing ups and downs, and the new world order is observing transformation in finance technology. The post-pandemic period is now showcasing a boom in digital technology. The era of accelerated technologies like 5G, blockchain, cloud analytics, AI, and IoT is pushing the finance industry sector toward new heights.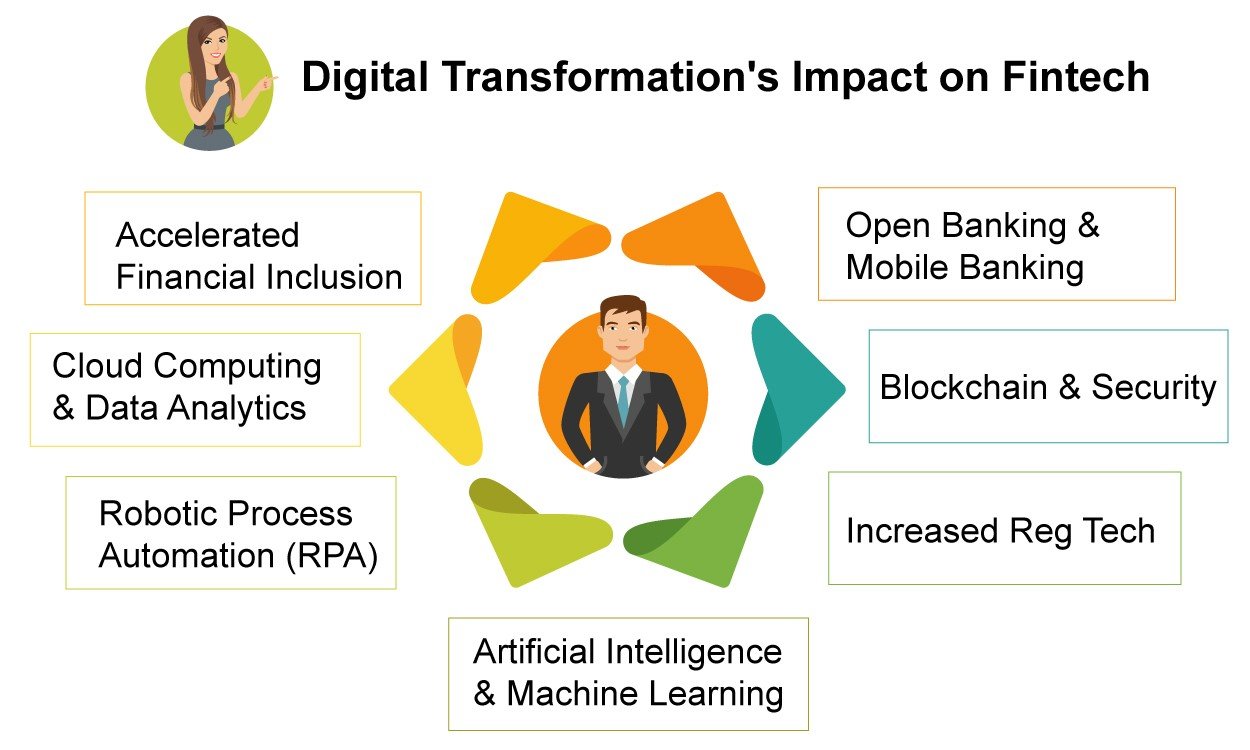 Businesses in the payments, insurance, banking, tax assistants, mortgages, investment, and wealth management sectors are shifting toward advanced technologies. Integrated financial services are reshaping their operations with advanced tech solutions in the market. Tech innovations are adopted to bring diversity, efficiency, inclusivity, and more competitiveness to the finance industry to cope with changing economic situations across the globe.
The tech revolution helps business entities avoid risk, saves time, and increases accuracy. The key achievement of the digital transformation in fintech is better user experience. Organizations are replacing old policies, implications, and regulations to adopt new ones. These tech replacements are increasing competitiveness and benefiting consumers; for example, Neo banking is replacing conventional banking operations.
Digital innovations have brought improvements in computing networks, cloud data storage, big-data analysis, blockchain ledgers, and handling large-volume complex problems.
However, existing challenges now seem irrelevant due to smart digital platforms with transformed tech solutions. These solutions are improving core financial services like borrowing, lending, payments, mortgages, and investing.
Moreover, finance industries are actively interacting and engaging consumers through social media platforms, and this social presence through online platforms is building awareness among consumers including Gen-Zs. Continued social media presence helps finance industries build the trust and reputation of their businesses.
Fintech is rapidly expanding, and each business entity strives for a global footprint in the finance industry. Digital innovations are driving revenue growth, and it is viable for fintech industries to incorporate new tech transformations. But these tech innovations are costly and require ample funding to install the trending technologies.
Tech giants are swiftly transforming, but small & medium scale entities face challenges while adopting advanced fintech solutions. Financial institutions are keen to enhance their UX/CX and make progressive changes in the organizations functioning. New entrants tend to lean towards transformation and achieve better outcomes by focusing on automation, connectivity, and data-accessing configurations.
Digital transformation has brought data analysis tools into the picture to advance in this competitive era. Open access to tech innovations brings a level playing field to all fintech companies. Prior assessments of risk also help financial service providers sustain and have some mitigation plans to face any unforeseen challenges. All global economies are experiencing that technology is proactively channelizing the market. But, finance companies need to abide by laws like competition laws and regulations available globally and country-specific reg tech legislated by respective governments.
Digital transformation also helps fintech organizations and financial regulatory authorities:
Secure and integrated network connectivity
Stability in fintech services
Reg tech compliance towards laws of the land
Time-saving and efficient services
Increased competition is ultimately helping users
Tech solutions protect and secure the privacy of consumers
Bottom line
Incorporation of tech innovations requires a balanced approach while adhering to competitive regulations and reg tech. New and existing entities in fintech must abide by all consumer protection laws while implementing tech services. Digital transformation has indeed brought a revolution in the fintech industry and driven an impactful change in all sectors. The responsibility of emerging technology does not depend on any singular company or country's legislatures. Authorities will need to work together to effectively navigate this new domain and strike a balance between the necessary policies before incorporating digital technologies in the fintech.
For more such Updates Log on to https://fintecbuzz.com/ Follow us on Google News Fintech News