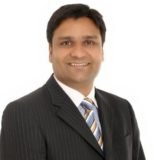 Over the last 19 years, Sandeep has worked in the areas of software development, business development, growing accounts, managing sales team and providing leadership to the organization. He is the Co-Founder of LendFoundry. LendFoundry works with alternative lenders and enable a 90 day go-to-market and at a fraction of the cost. We offer a highly sophisticated full stack cloud based SaaS solution to meet their end-to-end needs for digital lending.
1. Tell us about your role in Lendfoundry?
Sandeep Phophaliya is CEO of LendFoundry and has been involved with the various business development and growth initiatives. At LendFoundry, he is closely working with fintech companies in US and India to transform their customer acquisition, credit evaluation, and operations management processes by providing them a best in class technology platform
2. Can you tell us about your journey into this market?
Over the last 2 years, we have built the solutions to meet the digital lending needs of the lenders. We have worked closely with various clients in the US and India. It has been a very interesting and intense journey to bring the transformation in our client's businesses and also bringing in the efficiencies in their business.
3. Can you briefly describe what Lendfoundry is?
LendFoundry is the next-generation, end-to-end lending platform based on the cloud for enabling digital lending. Packed with 50+, out-of-the-box integrations with major FinTech data providers and platforms, it can help digitize a lender's entire loan lifecycle to deliver faster loans and also add new customer segments.
4. How do you think, Digital Lending has brought a change in the Fintech Industry?
I see the following changes happening in the industry:
New lenders coming into the play, who are focusing on niche products and which are largely digital in nature
Turn-around time changing from 5 ~ 12 days to few hours
Technology is making it possible to approve and service small ticket loans, which would otherwise have been impossible to do, if done manually.
Compliance will be a key element, which will also greatly improve by the use of technology.
5. What according to you gave upper hand to LendFoundry to win Fintegrate Zone 2018?
We have built the product keeping the core issues faced by lenders today and in days to come. Our focus has been to integrate with the ecosystem and thus enable customers using LendFoundry to leverage a significant alternate data in their decision-making. Our experience of working with clients in the US makes us a compelling proposition for customers looking to scale their business rapidly. We have a great team. All these makes us a great company and thus we believe helped us do quite well in Fintegrate Zone 2018.
6. What are the major developments you are planning, in the recent time?
We are focusing on key initiatives like bringing in a lot more self-service into the platform, leverage machine learning into making credit decisions and integrating with many more providers in the ecosystem.
We have an API based platform and thus are working on making integration with existing technology easier for lenders.
7. What are the benefits you think, Lendfoundry is providing to its Clients?
LendFoundry helps in solving the inherent challenge for any lender to lend faster at a much lower cost of operation. Typically any online lender spend almost 18+ months and upward of USD 2 Million to come up with market ready digital solution for lending. Infact, our platform LendFoundry can help lenders to go-to-market or launch lending products 6 times faster at 1/5th of the cost.
We help lenders to address the following questions –
How to handle thousands of applications to process?
How to improve credit decisions?
How to leverage alternate data to improve credit decisions?
How to decrease the application processing turnaround time?
How to focus on "lending" which is the core business and use an easy, yet powerful solution that decreases time and cost to market while staying agile, relevant and compliant?
8. For the better understanding of our audience, can you explain products offered by LendFoundry?
Though LendFoundry is a full stack lending platform addressing every step of the lending life cycle we offer specific components of the solution to address the unique needs of our customers. Below are the key solutions offered by LendFoundry:
Loan Origination System: Flexible enough to completely automate underwriting or configuring back office workflows for manual verification processes.
Loan Management System: A simple, intuitive and 'eye-pleasing' interface to log all activities of unlimited number of customer's servicing representatives.
API Gateway: More than 50 pre-built APIs, ensuring easy integration with leading data vendor and platforms.
Cash Flow as a service: Make quicker, better underwriting decisions by leveraging LendFoundry's "Cashflow as a Service"
9. Can you tell us about your team and how it supports you?
We have a team of about 45 people and the leaders come from top technology and financial services companies. It has been a massive commitment from the team which has helped us aggressively build our solution stack as well as work closely with our clients to meet their digital transformation needs. Team is excited and motivated and this brings the best out of them.
10. What is the vision, on which you and LendFoundry are working on?
Serving 200 customers in the next 5 years.
Support our clients scale their business by 50 to 100% year on year with a very small increase in their operational costs
Support our clients create new customer segments. Credit is a fundamental need and impacts the growth of any economy and we will like to contribute to this growth directly by making a difference.
11. How do you think Introduction of technology is benefitting Finance Sector?
Our clients have seen 8 to 10% improvement in their conversion rate; reduction in operational cost by 40 to 50%. This means that they can be more competitive and profitable in a fast growing market.
12. How do you think services offered by LendFoundry are different and more beneficial from its competitors?
Highly customizable platform: LF allows suite of APIs to integrate with CRM and other products
Flexible Micro-services based architecture: Flexible & easy to plug-in components and services in the platform
Scalable SaaS deployment: Allows horizontal scaling with growing multi-tenant support
Empowering Stakeholder Collaboration: Portals and dashboards for instant and online collaboration between borrowers, merchants, lenders and funding partners
Connector based design for 3rd party integrations: Abstracts Pricing Engine, Cash Flow Analysis, Communication, Document Management
Portals and dashboards: Instant and online collaboration between borrowers, merchants, lenders and funding partners
13. Which is the book you are reading these days?
Homo Deus: A Brief History of Tomorrow by Yuval Noah Harari,
14. Can you give us a glance of the applications you use on your phone?
Zoom, Uber, Yatra, Linkedin, Facetime

FintecBuzz