Reveel, whose Shipping Intelligence™ platform enables companies to level the playing field with carriers, announced its partnership with Corpay, a FLEETCOR company and global leader in business payments, to provide its customers with a smart digital bill pay platform for small businesses. Reveel's Shipping Intelligence platform provides shippers with actionable insights they can use to immediately save money – enabling organizations with parcel shipping operations, including e-commerce companies, to radically lower their costs.
Reveel and Corpay have forged a dynamic partnership to revolutionize financial management. The joint solution combines Reveel's advanced parcel spend management tools with Corpay Payments Automation, allowing businesses to streamline expenses, optimize costs, ensure compliance, make informed decisions with real-time data, simplify workflows, scale effortlessly, and receive exceptional customer support.
"For decades, businesses only learned of costly overage fees, easily avoidable surcharges, and other parcel shipping mistakes after receiving their carrier invoice," says Marc Aliotta, vice president of partnerships at Reveel. "In contrast, Reveel's Shipping Intelligence platform proactively identifies opportunities for shippers to save money in real time. Now, through our partnership with Corpay, we're taking things one step further – empowering shippers not only to control what ends up on their carrier invoices, but also to manage their accounts payable faster and easier than ever before."
The partnership presents an exciting opportunity for businesses looking to optimize their financial operations. Notably, Corpay offers cash rebates on most AP transactions, making it an attractive choice for businesses seeking to streamline their financial processes while simultaneously earning rebates on their expenses. By incorporating shipping provider payments into a streamlined AP strategy, organizations can maximize visibility and control, reduce costs, and boost their bottom line with additional revenue.
"We are thrilled to offer Reveel customers the empowerment of an AP solution that will simplify their payments process with easy reconciliation and an enhanced view of payments through our Corpay Payments Automation platform," says Caleb Jenkins, manager of business development for Corpay. "Our partnership provides businesses with a fresh scope of visibility into daily transactions, equipping them to make real-time and informed business decisions."
Corpay is a financial technology company that specializes in intelligent payment automation. Whether consolidating card programs, managing expenses on-the-go, or automating payment workflows, Corpay helps ensure businesses gain complete control and visibility of all transactions while simultaneously cutting costs and maximizing efficiency. As the number-one B2B commercial Mastercard® issuer in North America, Corpay helps businesses mitigate clients' risk of payment fraud by enrolling suppliers, independently collecting their payment remittance information, and safeguarding in-network payments with a comprehensive security and compliance infrastructure.
Stay Ahead of the Financial Curve with Our Latest Fintech News Updates!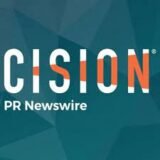 PRNewswire