Centrifuge, the first DeFi protocol to finance real-world assets (RWAs) on the blockchain, experienced substantial success and sustainable growth in 2022 year even as the wider crypto market has experienced turbulence, reinforcing the tangible value of real-world assets.
"As investors took a more discerning eye, the crypto industry at large undoubtedly faced a reckoning in the past year," said Lucas Vogelsang, CEO and Co-Founder, Centrifuge. "We believe this is a natural cycle, and the winners of tomorrow will be the crypto projects that show tangible utility."
With crypto winter here, investors are looking for products that provide real value and generate sustainable yield – while in traditional asset classes. Centrifuge was the beneficiary of this shift, as the protocol brings traditional assets on-chain into DeFi, enabling businesses to access financing without unnecessary third-party intermediaries. Centrifuge is the critical infrastructure connecting real-world assets to DeFi liquidity.
With Centrifuge, businesses can tokenize their real-world assets such as mortgages, invoices and consumer credit, to create asset-backed pools. Once on-chain, these assets are unlocked through securitization via Centrifuge, where investors can finance these assets, providing liquidity and generating web3 yield that is backed by assets from the real-world. Ultimately, Centrifuge aims to create a robust, decentralized credit ecosystem.
As a result of these trends, here are some of Centrifuge's highlights in 2022:
MakerDAO and BlockTower to fund 

$220m

 in real-world assets through Centrifuge, making it the largest on-chain investment in real-world assets to date, and marking the first institutional credit fund to bring their collateralized lending operations on-chain.
Raised more than 

$4 million

 from BlockTower Capital and Coinbase Ventures
Partnered with BlockTower for a treasury token sale worth 

$3 million

Surpassed more than 

$200 million

 in assets financed (all-time)
Announced Centrifuge Connectors, a cross-chain product that will bring a native user experience to Ethereum, Avalanche, Moonbeam and Celo.
Despite the headwinds, Centrifuge sees many opportunities in 2023 and beyond for real-world assets and crypto.
"The greatest application for real-world assets in 2023 is to provide the crypto ecosystem, specifically institutional investors, stablecoins, and DAOs, the opportunity to maintain a balanced portfolio with risk-weighted returns – all on-chain," said Vogelsang. "This will provide crypto the much-needed opportunity to mature and re-affirm its tangible value to traditional financial markets."
For more such Updates Log on to https://fintecbuzz.com/ Follow us on Google News Fintech News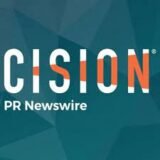 PRNewswire