Michael Rangel from Novo talks about various trends & challenges catering to the business sector that partakes in the functioning of banking platforms. 
Michael Rangel is from Miami, Florida, United States. Before Novo, he used to work as lead administrator and operations at Fairholme Capital Management. Michael Rangel came up with the idea to start Bank Novo while considering pursuing his MBA at Columbia University. Together with Tyler, he began working toward building a new business, which launched in 2016 with an invite-only release.
1. Tell us about your role at Novo?
I'm the CEO and co-founder of Novo. In this role, I work closely with all of our department heads across product development, client services, operations, marketing, and finance teams to ensure that we are providing our business customers with the best possible digital banking experience.
2. Can you tell us about your journey into this industry?
I got into finance at the age of 19. I knew that I was good with numbers, and had passed the Series 7 exam before I took my first finance class in college.
As an undergrad, I wanted to start a company, but thought I needed more knowledge, more money, or more connections. I moved up to New York City in 2015 and began taking classes at Columbia University. I fully planned to complete an MBA program at Columbia, but around the same time, I was talking with a longtime friend of mine about launching something to become the proverbial 'startup bank' as we had both experienced the problems with small-to-midsize business (SMB) banking in our own right. We started building Novo in 2016, and launched to customers in 2018.
3. How do you think technology is improving the business banking sector?
The post-pandemic future of small business banking isn't just helping small businesses keep their money safe — it's creating and implementing technology-driven solutions that truly help small businesses save money, streamline their finances, and improve cash flow.
Let me take a moment to touch on how technology will help improve the business banking sector in these areas:
Saving money: For small business owners, the most valuable commodity they have is their time. If you have a digital banking platform that allows small business owners to accomplish their banking tasks in minutes, right from their phone, they will have more time to focus on their business goals. Technology can essentially allow the vast majority of small business owners to never go into a branch, and even open a new checking account in a matter of minutes instead of days.
Streamlining finances: Business owners often use myriad applications for different financial tasks, such as creating invoices or creating financial reports. Now, digital SMB banking platforms are emerging that give business owners a centralized place to conduct the majority of their financial tasks.
Improving cashflow: As we look toward the future of small business banking, one area that particularly intrigues me — and an area that Novo is actively working on — is how technology can help small businesses improve cash flow. For instance, if a banking platform can help connect disparate fintech applications in a way that helps speed up payments for a small business, the small business will have an opportunity to use that money more quickly for things like payroll or capital expenditures.
4. How do businesses benefit from using Novo's digital banking platform?
Novo's digital-first banking platform offers robust functionality and an intuitive interface for accepting and sending payments — completely free of charge and without minimum balance requirements. To give you a sense of what small businesses can do with Novo, here are four capabilities we've launched in 2021:
Novo Invoicing for creating and managing an unlimited number of invoices.
Novo Reserves for building a rainy day fund or planning for larger capital expenses.
Stripe, Shopify, and Square E-Commerce Integrations for tracking monthly sales metrics as well as the status of payouts from Shopify or Square to Novo accounts.
Self Service Capabilities for disputing transactions, requesting a new Novo debit card, and adding a Novo card to Apple or Google Pay.
5. What features of your platform differentiates it in the market?
I couldn't be more proud that Novo was named one of the best business checking accounts of 2021 by Money magazine, and one of CNBC's Best Business Checking Accounts of May 2021. These awards are a testament to how our team has innovated in the business banking space.
Many digital banking platforms for small businesses feature limited functionality when it comes to integrating with e-commerce platforms. Others might have robust functionality, but have difficult-to-use interfaces, or high fees for maintenance, ATM usage, and more.
Small businesses have switched to Novo because our digital-first banking platform offers robust functionality and an intuitive interface for e-commerce payments — completely free of charge and without minimum balance requirements
We recently announced a number of enhancements to our digital banking platform, which you can read more on our features page—https://banknovo.com/features.
6. In what way has the COVID-19 pandemic affected the business banking industry?
COVID-19 certainly accelerated small business adoption of digital banking platforms, and I anticipate that this speed of adoption will only increase in the years ahead. Particularly as more and more small businesses move to being e-commerce-first, they will demand digital banking solutions that are intuitive, flexible, and cost-effective.
7. What advice would you like to give to technology startups?
In terms of leadership skills, one of the biggest things I learned during 2020 was how to deal with uncertainty and radical change.
As a startup leader, you have to embrace flexibility and transparency more so than ever before.
8. We have heard that you have a very joyful work culture, so can you share with us some fun pictures of your workplace?
Here are a few photos of our office and incredible team: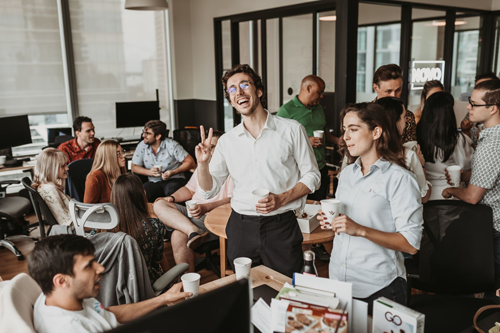 9. Can you give us a glance of the applications you use on your phone?
FTB News Desk