Step into the world of fintech innovation with Soumaya Hamzaoui, Co-Founder and COO at RedCloud. Gain exclusive insights into the visionary strategies and technologies driving the future of financial services in this compelling interview.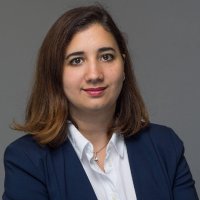 Soumaya Hamzaoui is the Co-Founder and COO of RedCloud Technology. Her role includes overseeing operations and product strategy, and heading the design, business development and customer engagement teams. Among her biggest achievements are working on the development of Orange Money in Africa and supporting industries such as banking, transport and telecommunication in their transformation towards new technologies. She has a 10-year background in software and telecommunications as well as extensive experience of product management in financial services.
Can you share your journey and experience as a Co-Founder and Chief Operating Officer at RedCloud? How did you come up with the idea for the company?
While working as a consultant, I helped the development of Orange Money, a digital payments service, in Africa. There, I got an insight into the potential for financial services and technology in that continent and I wanted to get involved with it on a larger scale.
Then I met Justin Floyd and together we co-founded RedCloud as a payments company initially, which perfectly matched my business engineering and transformation specialisms. We saw a big gap in B2B payments, particularly in the distribution chain, where all the payments were made in cash and payment fees were really expensive and, thus, merchants were reluctant to accept card payments. So we decided to create a digital payment solution that enables both the merchants to pay their distributors and the distributors to pay the brands for their stock electronically.
There were also underlying problems such as reconciliation issues with offline payments, as well as invoicing issues, so we started out by solving those particular problems by facilitating the accounting for these businesses to enable them to operate more efficiently. We also realised that the whole delivery process was a mess; merchants couldn't keep track of what they were buying and selling, so we wanted to expand our offering beyond just payments to address these pain points too, ultimately becoming a fully-fledged Intelligent Open Commerce platform.
RedCloud Technology offers solutions in the area of financial technology. Could you provide an overview of the specific products or services your company provides?
RedCloud's Intelligent Open Commerce platform integrates a B2B marketplace, digital payments and marketing intelligence so brands can accelerate sales growth and market reach. Our technology was built and invested in by leading European investors in Cambridge, UK and a global development team drawn from more than 21 nationalities.
The platform can be integrated with a business's existing tools to improve business intelligence, data accuracy and operational efficiency. It can also be used to centralise and optimise order and inventory management using our smart integration module, as well as to integrate external systems with a two-way data feed for better quality information and more efficient processes. We let the businesses customise the quality and level of service that they want to provide to their merchants. By providing them with all possible options, the distributor can decide which payment methods they want to accept, depending on their capacity and their preferences. It's the same across all our infrastructure.
By building the infrastructure, we enable the seller to customise the experience they want to offer their buyers. This includes all the pieces of the supply chain distribution chain, ranging from payment, and stock and inventory management solutions to pricing and delivery management solutions, all of which are fully customisable through our platform.
In your opinion, what are the key trends and challenges currently shaping the payments industry in EMDEs, and how is RedCloud addressing them?
The biggest trend is the move towards digitalisation. With most of their customers going online, merchants need to do likewise in order to survive. They must embrace this digital disruption and adapt their strategy accordingly to meet this new way of operation. The key advantage that these businesses have over their larger ecommerce competitors is they have already built up a solid foundation of trust with their customers, many of whom still choose to buy from them.
By combining this trust and the confidence that they have earned with the comfort and convenience of digital commerce, they can leverage this opportunity. But given the technology's relative infancy in these markets, many of these businesses need to be educated in how to use it properly. Many distributors are right at the start of this learning journey, having just bought their first computer, and they are learning how to read and interpret the data, and, thus, understand their business better, make more informed decisions and, therefore, reap the rewards. They are also often sceptical and reluctant about the move to the new technology, having operated the way they have done so for years, meaning that they can be slow to adopt it.
By the same token, they will also come to realise the need to evolve with the technology and the benefits that it will bring, which is further helped by buy-in from a younger generation of the business. In terms of the payments industry itself, it's becoming increasingly more tightly regulated in order to control prices and, therefore, payment prices are going to go down. Thus, digital payments will become cheaper, which only stands to benefit the end consumer. The problem, however, for payments companies is that their margins will get thinner, so they will have to diversify their offering as a result. Having started out as a payments provider ourselves, we saw this trend coming and diversified our business accordingly, and now our margins come rather from merchants' sales transactions and the data we are collecting that we can provide them with.
RedCloud emphasises the importance of financial inclusion. How does your company enable greater financial access and inclusion, particularly in EMDEs?
One of the biggest impediments to traditional commerce is the lack of data and visibility. Another key problem is that the technology giants continue to control the commerce journey, squeezing the smaller sellers out. This needs to change, particularly given that the overwhelming majority of consumers pay for goods locally in stores, served by 500 million merchants, who are tied to inefficient and manually-driven supply chains that are vulnerable to external forces.
All of these challenges can be overcome, however, through the use of digital commerce. Yet, most merchants in emerging economies can't trade digitally because they're locked out of the financial system. As they are unbanked and forced to continue using cash, they can't establish a trading profile and, therefore, are also prevented from borrowing the money they need to invest in their businesses. But digital technology can help businesses to scale and become more visible, as well as drawing on greater insight to see how they are performing against their competitors and what gaps in the market they can exploit.
The first step is to take offline businesses online to make them financially inclusive and give them the weight they deserve in the local economies they serve. By digitising them and providing them with data on key trends and their transactions history, they can use that to justify their access to the working capital needed to keep expanding their businesses. It's the same for merchants, who can establish their own digital identity through using our platform and can gain access to the financial services that they need, and start trading online.
Could you share some success stories or examples of how RedCloud's solutions have positively impacted individuals?
Among my proudest achievements is helping businesses to realise the benefits of digital trade by migrating to our platform. On a visit to a distributor in Nigeria, she proudly showed me how she was using the platform to manage all her administration and sales. The daily reports that she received enabled her to drill down into the data and see how the business was doing. Here was a prime example of how we had effectively converted a local offline business into a 100% online global operation. We have also helped businesses to triple their turnover and increase their visibility in the market by joining our platform. By leveraging our technology, we are enabling them to grow, which was our main goal when we started RedCloud.
RedCloud Technology operates in various regions globally. How do you navigate and adapt to the unique regulatory landscapes and market dynamics in different countries?
Before we open in a new market, we thoroughly research it first by going and spending time there to see what it's like. We also rely heavily on our local teams, so it's vital for us to have the right skills in the market by hiring experienced people who understand its dynamics. They basically validate our assumptions and then we build a business plan with them for that market. One of our key strengths as a technology company is having a platform that is easily adaptable to meet the requirements of local regulations, whether it's from a tax or regulatory standpoint.
As the Chief Operating Officer, what are your main responsibilities within RedCloud, and how do you collaborate with other key stakeholders to drive the company's growth and success?
In my role, I oversee operations, product strategy, design, business development and customer engagement. This involves everything from engineering and technology to sales and marketing. Basically, I fix any problems and make sure that everything is working as it should be and all the departments are collaborating effectively with each other and pulling in the same direction. I also look at all the key trends to see how customers are behaving and use all the tools available to see what they are saying about the platform, how we are doing, what are their pain points and how we can help solve them.
What are RedCloud's future plans? What new products have you got in the pipeline?
Our main goal is to be in every African country by 2028. Our biggest product development is on the artificial intelligence (AI) front, which is going to take up a big chunk of our time and resources moving forward. We are just starting on that journey in terms of developing conversational commerce and understanding how we are impacting pricing. We have identified 25 initiatives that we can develop around AI and are currently working on 10 of them. Everything we're doing is focused on improving the customer experience and the way that businesses trade.
What is the importance of partnerships and collaborations, and how are you approaching building and nurturing strategic partnerships?
We are a platform business and, therefore, our role is to be the hub that connects all the various partners across the platform. Ultimately, we want to enable our partners to deliver value added services to our customers. The key partners we are working with are financial services partners who extend credit and working capital to our customers, and technology partners, who we work with on the AI side.
Finally, could you share any advice or insights for aspiring entrepreneurs or professionals looking to make a difference in the fintech space?
You need to have a strong sense of purpose – what change do you want to see in the fintech space and why. You must also be solution-oriented and know how to confront problems with innovative thinking.
Your path will be unpredictable and might require you to pivot multiple times in order to achieve your objective. The key is to remain flexible and adaptable when necessary, whilst always keeping your purpose in mind.
Stay Ahead of the Financial Curve with Our Latest 
Fintech News
 Updates!