Thierry David Gilgen from MachinaWaretalks about the rise of crypto assets and how digitalization has made its adaptation globally easier.

Thierry David Gilgen is the Chief Executive Officer of MachinaWare. As CEO, he is mainly focusing on business strategy, fundraising and product invention. He has a strong background in digitalization and IT infrastructure and has spent most of his career working for large enterprises in the medical sector.
1. Tell us about your role at Machinaware?
I am mainly focusing on the business strategy, fund raising and product invention. I am managing a total of 16 people, who are working part or full-time for the project.
2. Can you tell us about your journey into this industry?
I have a strong background on digitalization and IT infrastructure, and I have spent most of my career working for large enterprises in the medical sector. Blockchain has caught my eye in 2015 and I started with envisioning blockchain-based applications, while running my own little GPU-Based mining farm. I got into trading out of pure curiosity as I wanted to maximize my profits of the coins I have mined.
3. How do you think technology is upgrading the financial sector?
The impact of technology on finance has never been as big before. So far, we have just used technology to rebuild the existing business, but nowadays, technology is the base, defining how business models, as well as the companies themselves, are working. The combination of the new emerging technologies such as blockchain and machine learning, open more new possibilities than we could ever think of today.
4. How has digitalization empowered crypto asset trading?
Digitalization has made trading of crypto asset trading possible in the first place. The setup of crypto wallets, access to exchanges and trading is all performed online, in real time and can nowadays be done easily from home or mobile. Since crypto assets are being traded around the clock, empowered by software and online tools, digitalization goes hand in hand with the trading of digital assets.
5. Can you tell us about Bob and how it can be utilized by a novice trader?
Bob our Robo-Advisor that we are building on top of the MachinaTrader-Platform. Bob makes educated suggestions on what strategies and parameters best fit the current market or can produce signals based on real-time market-, news- and social media data.
6. How would you say the capabilities of MachinaTrader infrastructure results in positive consequences on trading?
The architecture allows very efficient and secure trading setups, in Its base, MT does not do any magic, it just does the basic things right and allows the use of advanced technologies in a more standardized way. For 99% of all traders this should be the most efficient and therefore possibly also the best way to execute their style of trading.
7. How is MachinaTrader automating crypto trading to make it more scalable?
You can deploy single-node or multi-node setups on a multitude of supported hardware and operating systems and decentral locations. This allows to build trading setups that are nearly limitless when it comes to scaling. MachinaTrader is not just an application, it is a use-case optimized infrastructure platform.
8. What features of your modular platform differentiates it in the market?
It combines all features that we have been missing in the market. It begins with the customization of the dashboard, which allows to keep track of market news, own trades and social media accounts and trending topics. The user can customize it all like a toolbox. We also combine the social aspects with our marketplace and social network, where we want to encourage our users to interact and collaborate in this niche. In our opinion this is the complete solution, besides the ultra-fast and efficient trading functionalities, that a complete algo trading platform should offer.
9. What advice would you like to give to new fintech solutions entering the market?
Don't be satisfied with the current state of your solution but try to be innovating right from the beginning. Be aware of the latest trends and ask yourself how you can do it even better.
Sometimes it is already enough to provide a functionality with an alternative and more innovative – maybe riskier – method of solution to achieve a market advantage.
10. What is the Digital innovation in crypto trading according to you that will mark 2021?
Right now, Decentral Finance (Defi) project are making a lot of noise. So far, this has definitely been the most exciting thing in Crypto this year. However, I still think that tokenization of real-world assets will be a big changer once fully regulated mainstream finance products on that base will be a more common thing.
11. Can you tell us about your team and how it supports you?
At MachinaWare we have a nice mix of different ages and nationalities, allowing us to look at problems from a multitude of perspectives. Being part of this is more than a job and this feeling is infectious in a very positive way.
12. What book are you currently reading?
Homo deus by Yuval Noah Harari
13. What movie inspires you the most?
The Social Network by David Fincher
14. We have heard that you have a very joyful work culture, so can you share with us some of the fun pictures of your workplace?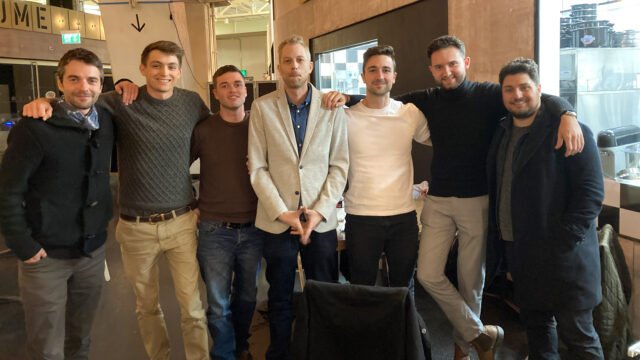 15. Can you give us a glance of the applications you use on your phone?
I love stripped-down systems. However, I have my steam app everywhere. Fun is important.
For more such Updates Log on to https://fintecbuzz.com/ Follow us on Google News Fintech News

FTB News Desk