Tim Kunde, the Founder and Managing Director at Friendsurance talks about the growth of the insurtech industry and how a peer-to-peer insurance model functions better

Tim Kunde is the Founder and Managing Director at Friendsurance. He built Friendsurance up to be a game changer in the insurance industry and a strategic, technical partner of some of Europe's biggest banks and insurance providers for their digital customer solutions.
1.Tell us about your role at Friendsurance
My colleagues Sebastian Herfurth, Janis Meyer-Plath and I launched Friendsurance in March of 2010 as one of the first insurtech companies in Germany. We built Friendsurance up to be a game changer in the insurance industry: In 2010, we introduced the world's first peer-to-peer insurance model. That was the start, since then we have extended our platform by many additional features and services, eventually allowing our customers to manage all their insurance related topics through one integrated platform. In 2017, we started offering our platform solution not only directly to consumers but also to partners and their customers, especially banks and insurance companies. This approach today is known as digital bancassurance. As Managing Director and Co-Founder of Friendsurance I am responsible for strategy as well as operations and investor relations.
2.Can you tell us about how was about your journey into this industry?
After graduating from WHU Business School I started with Boston Consulting Group, advising various companies on consumer goods and insurance matters. Afterwards I learned at Rocket Internet what "operational excellence" means and decided to use my experience to start an own business.
3.How do you think technology is upgrading the financial sector? How has digitization helped in better insurance practices?
Customers want to manage their financial affairs conveniently and efficiently. For many of them it is annoying to log into different portals where they can only view a small frame of their finances at a time. According to a representative survey by YouGov the majority of Germans (52%) would like to manage their insurance contracts via their online banking. Digital bancassurance platforms which bundle banking and insurance services in one place are becoming increasingly important. They offer a win-win situation for everyone: Banks can increase customer loyalty, insurers benefit from the everyday relevance of banking and customers get the convenience they want.
4.Why is digital bancassurance so important especially against the background of the Coronavirus pandemic?
The desire of customers to be able to do a lot of things digitally has been strengthened by the Corona pandemic.
Already before the crisis, 79% of Germans used digital services in the banking and insurance sector. Every tenth of them now plans to make even greater use of these services as a result of the Corona crisis. This corresponds to around 5 million adults in Germany.
The growing demand on the customer side is also reflected in the increasing number of insurance companies and banks who are interested in our solution. On www.friendsurancebusiness.com we offer a digital, scalable and modular bancassurance platform which can seamlessly be integrated into our partners' systems. We give the great opportunity to bind customers through valuable digital services and at the same time open up new sources of income without having the considerable investments required to develop own bancassurance platforms.
5.How big is the market potential for digital bancassurance?
We already have three bancassurance partnerships live, each one of them with Top 10 banks and insurance companies in Germany. And still, that seems to be just the tip of the iceberg: traditional bancassurance, the offline version, is a business with several 100 billion of insurance premiums each year in Europe alone, and all players are in urgent need of digital strategies – and the capabilities to execute on them.
6.How do you prepare for an AI-centric world?
Insurers have always needed data to assess risks and insure their customers. Until now, insurers have only known a small part of their customers' lives. What is new is that large amounts of data are now available in digital form. The new data sources include account, health, smartphone and transaction data. The use of these data sources has a significant impact on the development of new insurance solutions: Enabled by PSD2 insurers and other providers are able to access bank account data via APIs if the customer authorizes them to do so. Intelligent algorithms and machine learning are used to extract information from bank account movements. The new information allows insurers to develop personalized offers for customers and thus make insurance more attractive. If, for example, child benefit is suddenly transferred to a customer's bank account, the insurer can ask whether there has been a family addition and, if so, trigger a consultation, which existing insurance policies need to be adapted and which additional insurance policies might be useful for the child.
7.Can you explain to us in detail about your peer-to-peer insurance model? What consideration goes behind Friendsurance offering claims-free bonus?
The claims-free bonus is a peer-to-peer insurance model that rewards remaining claims-free with an annual bonus, thereby making insurance more affordable.The idea behind this: For centuries, people have protected each other in small groups. In village communities, the individual was supported by others when their house burned down. This was trusting and efficient, but the financial opportunities were limited. Today, insurance companies can shoulder damages of any size. However, unlike in village communities, insurance customers must now pay in advance. The money is gone, even if the insurance was not used. We do not think that is fair. That is why we have developed a peer-to-peer insurance model for our clients that combines the strength of large insurance companies with the benefits of small groups, and rewards these groups with a bonus if they remain claims-free.
8. What major developments you are planning for the future?
We just raised 1.5 million Euro in fresh funding and intend to use the additional growth capital to continue expanding our digital bancassurance business in Germany and also internationally.
9. We've heard that you have a very joyful work culture and we would enjoy seeing some of the pictures. Can you provide some?
Currently, around 100 employees from 20 nations work for Friendurance. The resulting diversity creates a good mindset and promotes innovative strength. Our culture is strongly characterized by a "Can Do" attitude and departmental teamwork. Our way of working is very agile and customer-centric.

10) Can you give us a glance of the applications you use on your phone?
Please find a screenshot below.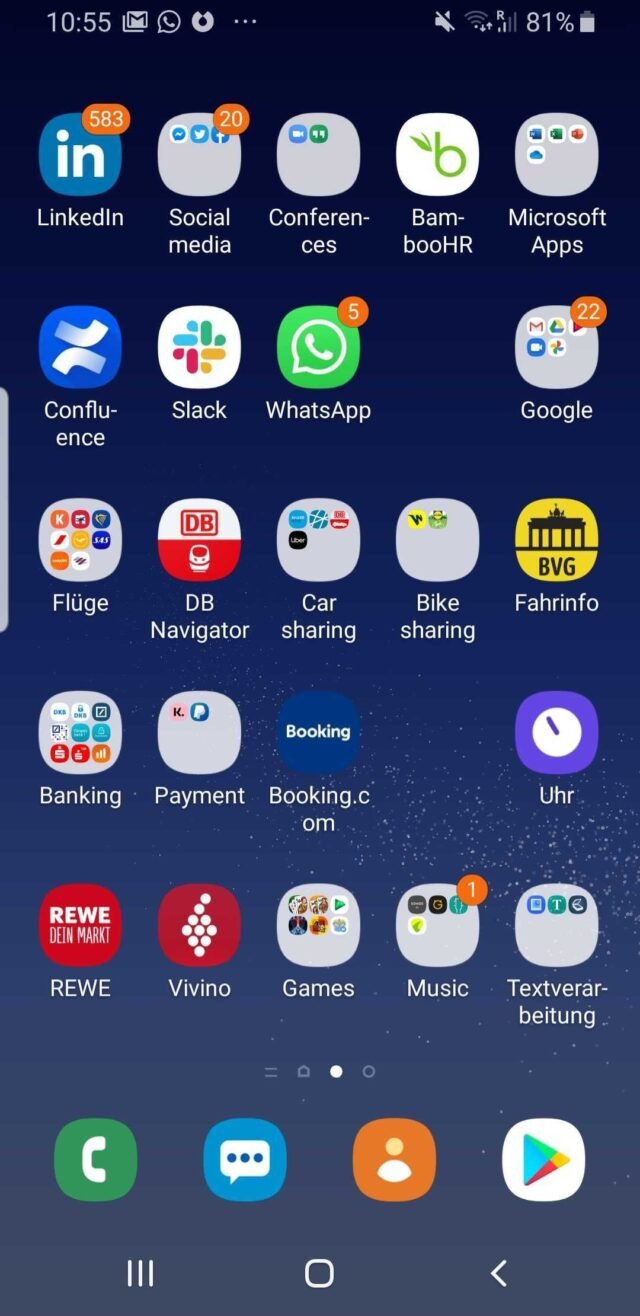 For more such Updates Log on to https://fintecbuzz.com/ Follow us on Google News Fintech News

FTB News Desk