Today influencer marketing is considered to be a key marketing strategy for promoting the entire spectrum of FinTech products and services: from cryptocurrency exchange platforms to binary options. This trend is easy to explain: influencer marketing helps reach out to potential customers successfully, and build brand awareness and trust in your product. 92% of consumers trust influencers more than ads or traditional celebrity endorsements. However, building a successful influencer marketing strategy requires careful planning for marketers. Let's have a look at key points to consider while strategizing:
1. Set the Goals of Your Campaign
In order to create a successful influencer marketing campaign, it's important for financial brands to set clear goals from the start. It could be new registrations or downloads of a new FinTech app, brand awareness, engagement, building trust, credibility, and others.
These goals should be specific and measurable. For example, a campaign dedicated to simply increasing brand awareness is doomed to failure. You can make your goals clearer and more specific, for example, like this: "We need to increase the conversion rate of the solvent male audience aged 25-35 from the LatAm region by 10%" or "I want to attract 1000 new users of any gender aged between 30 and 45 from Vietnam and Thailand" – this sounds more realistic.
2. Identify Your Target Audience
Think over who your customer is, consider their geographic location, age, gender, interests, and habits. Describe your ideal customer in detail and try to get inside their head.
This will help you identify the right influencers who can resonate with your target audience and promote your brand effectively. Knowing your potential consumers' preferences could bring very good conversions by procuring even those who are not familiar with your niche.
3. Choose the Social Media Platform
Usually, brands choose to collaborate with influencers on YouTube, Twitch, Instagram, TikTok, and Snapchat. It doesn't mean you should start working with all of these platforms at once. Each of them has its own peculiarities and the choice depends on your product, app, or services. For example, visual-based businesses like beauty and retail will perform better on Instagram and TikTok, while game promotion will bring more tangible results on Twitch and YouTube.
If you have a complicated FinTech product, the best platform to choose is YouTube: its ad format (60-90 second integration or a dedicated video that can be tens of minutes long) allows you to describe the product's features in detail. For easy-to-understand products, it's possible to advertise on Instagram – in most cases, the ad will be more native.
Many FinTech brands aim to start working with TikTok influencers. The pitfall here is that TikTok (and Instagram as well) doesn't provide a clickable link under the post, and creators place the link in their profile's bio. The sad news is that recently TikTok has been banning links to the stores in bios so placing a direct link becomes impossible. Besides, the platform prohibits the advertising of finance products, NFTs, CFD brokers, and other niches. That is why the idea of launching creatives with a clickable link will not work.
4. Select the Right Influencers
This is the key to the success of your influencer marketing campaign. Look for influencers who show good performance and whose values align with your brand's ones. The most important thing here is that an influencer's content should correlate with your product. For example, ad integration of a trading platform in a short-term campaign will perform better on a YouTube channel of a Forex and trading influencer. At the same time if you are aimed at long-term campaigns, do not limit the search to financial channels only – usually, these channels are niche and their audience is not so large, which is why scaling the campaign in the long term becomes impossible.
In case a FinTech brand is interested in integrations with influencers in such narrow niches as finance, trading, and business, creators' CPM will be multiple times higher than that of other categories. Expert channels' CPMs may vary from $50 to infinity: this type of content attracts a "golden", solvent, and wealthy audience that all the brands aim to target.
5. Check the Quality of Influencers' Accounts
One more important thing to pay attention to is crypto channels: 80% of them are scammers with fake statistics and followers, paid views, comments, and even click-throughs (without further performance, for sure). That is why it is crucially important not to agree on prepayment. Make it after the integration is released and checked, the performance and KPIs achieved, etc. At Famesters, we use our own developed AI BuzzGuru that allows us to get all the stats of any influencer's account in a couple of seconds and immediately reveal scammers. It is also possible to do it manually, but this usually takes a lot of time and effort.
Take a look at influencers' followers – try to understand if they are fake bots or real people. Also, take a look at the influencer's potential engagement rate. A quality influencer will have an engagement rate from 1.5% to 3.5%, which means if an influencer has 10,000 followers the number of likes and comments under their post will be 150 to 350 on average. Be very attentive while checking fake followers and comments. CPMs of crypto channels are high, and even one accidentally involved influencer scammer could strike a heavy blow at your ROI.
6. Create a High-Quality Brief
It helps communicate your ad message in the best way, clearly explaining the benefits and value of your app or platform.
Provide influencers with a clear brief that outlines your brand's message, goals, budgets, and expectations. Provide the influencer with specific guidelines for the content they should create. This could include the tone of voice, key advertising messages, and any information to emphasize. Describe everything you expect to see and do not hesitate to mention any restrictions. For example, you can request to be the only advertiser in the video or mention the points that should not be highlighted.
At the same time, there is no need to mention every single point the influencer should announce – they usually know how to communicate with their audience and make the integration native. At the same time, remember to include all the points you would love to mention in your ad.
7. Prepare an Agreement
The agreement should include all the potential risks you may face during the campaign launch: creative drafts approval, deadlines for integration release, IP rights, views guarantees, and payment details.
Always agree on additional promotions with influencers and remember to include them in the contract. For example, when a creator releases a video with your integration on YouTube, they additionally promote it on other social media: in Instagram Stories or on YouTube communities.
8. Measure the Results
It's essential to measure the effectiveness of your influencer marketing campaign to understand what's working and what's not. Use metrics such as engagement rates, reach, the total number of registrations on your platform or app installs, and conversions to evaluate the success of your campaign.
If you are concentrating on performance, remember to measure the organic traffic as well, its rate usually varies from 40% to 60% of the total amount of installs or purchases. But how to measure it? Measure the organic traffic before your integration and after. In case collaboration with creators at that moment was the only marketing activity, this spike will demonstrate the organic traffic from your collaboration with influencers.
In Conclusion
61% of consumers trust influencers, while 38% prefer content created by brands. The key to building a successful influencer marketing strategy lies in understanding the needs and preferences of the target audience and selecting the right influencers who can effectively communicate the message. By carefully analyzing the audience, financial brands can identify which influencers are the most effective in driving engagement, conversions, sales, and increasing ROI.
Pavel Beinia is a serial entrepreneur and a profound expert in the influencer marketing industry. His projects include creative influencer marketing agency Famesters and influencer discovery & marketing intelligence platform BuzzGuru.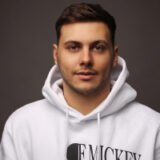 Pavel Beinia