Daniel founded Habito, the UK's first online mortgage broker and lender platform in 2015. Habito exists to set people from the hell or mortgages and uses technology to bring mortgages into the 21st century. Using Habito, homebuyers can be sure they're getting the best deal for them, with no jargon, no fees and no misinformation. Daniel has extensive fintech experience that took an unusual route, having spent the early part of his career as a professional session musician. Before starting Habito he held several technology positions at Wonga.com including Head of Product and Managing Director of Business Lending & Retail.
1. Tell us about your role in Habito
I'm the founder and CEO at Habito. I work with Habito's Senior Leadership across our Operations, Engineering, Product and Design and Marketing teams to plan how to deliver the best mortgage experience for our customers. Outside of that, I'm in touch with our investors, keeping them up to date with our performance, and strategy planning for special projects and our next stage of growth as we scale.
2. Can you tell us about your journey into this market?
I was in the process of leaving my job, thinking about what I could do next and simultaneously applying for a mortgage. My wife and I had found our dream home and we were excited to move. That is, until the mortgage process turned into a horror story of multiple 'complications'. Once our nightmare of an application had finally been accepted weeks later and we finally had our house, I began to do some research. I found that I wasn't alone in experiencing the most acute stress and uncertainty of my life when getting a mortgage – and that it was due to systemic issues in the industry. The whole mortgage market hadn't developed or innovated in over 30 years. My past experience in a fintech made me believe that technology would be the answer. So, I began my journey in creating Habito!
3. How do you think technology is developing the financial sector?
The wider financial sector has changed vastly in the last 5 years – be it from regulation, new entrants and product development. We finally have financial services that are starting to reflect the way people want to work, the way people want to bank and consumers' expectations. But there's still a way to go. Filling in a long form, spending hours face to face with an adviser charging unnecessary fees to then spend months waiting for a decision which gets you stuck overpaying every month because you didn't know your initial interest rate was about to expire – just isn't going to cut it anymore. All the customer touch-points in the mortgage application process can be improved by technology. Whether it's surfacing information at the right time, comparing tens of thousands of live products in seconds, getting impartial advice over live chat from the comfort of your sofa, not having to take a day off work to go into your bank, and being reminded when you need to switch.
I firmly believe that technology saves money, time and stress.
4. How has AI and technology empowered mortgages?
Getting a mortgage now is vastly easier, cheaper, quicker and more transparent, than before the fintech revolution. Better use of technology now means that a mortgage application doesn't need to be tossed between several different hands from different separate parties, re-keying the same information over and over with the possibility of mistyping and human error. The use of pure Artificial Intelligence (AI) in mortgages is still in its infancy right now, but something that we'll see much more of in the future.
5. How has your robo-adviser helped your customer?
Robo-advisors sound terminator-like and for many consumers, the term can be off-putting, cold and scary. What it comes down to it, in reality it just means that we userobo-advice to do things that robots, (computers) are good at. With some pre-set questions our robo-advisor can guide customers through the early stages of applying for a mortgage by asking a set of dynamic questions to assess their current needs and future life events. We then scan over 90 lenders and 20,000 products to find the best mortgage on the market for that person. There's no way a human broker could do all this in 5 minutes. Of course, our robo-adviser isn't 100% right for every scenario, and that's where our human experts come in. The beauty of our robo advice element is that it gives our experts more time to do the talking, planning and thinking creatively around more complex or unusual mortgage cases. Every Habito broker submits more applications each day than the industry standard, but still has the time to spend with each customer, delve into their situations and give them advice to suit their needs. The other huge advantage to using elements of robo-advice is that it means we can provide our service for free. fintech news
6. How has Habito contributed in easing the process of mortgage?
The biggest reasons customers like to use us is because we save them time and money. Our sourcing platform is our own proprietary technology, and it shows customers the best deal for them, sorted by 'true' cost of their loan. We compare interest rates plus any product fees, cashback perks, or free valuation offers, so consumers can get a true indication of how much that mortgage will cost them, rather than the 'teaser' interest rate which many comparison sites or banks show to lure customers in. We also alert our customers once it is time for them to remortgage and again so they don't slip onto their lender's standard variable rate. And of course, our whole service is free to consumers from beginning to end.
Using technology has also allowed us to give time back to consumers. We use machines to do the repetitive work like document collecting or filling out forms which frees up the time of our mortgage experts and allows them to use their skills to communicate with the customers and guide them through the process. Most importantly all communication between mortgage experts and customers is done through live chats meaning our customers don't need to take time out of their busy days and can connect 24/7.
7. For our audience, can you give brief information about your next-generation mortgage products
We recently announced the launch of Habito Buy-to- Let mortgages, becoming a lender – not just a broker. The range features the most comprehensive selection of high loan-to-value (LTV), competitive rates and long-term fixed deals for the buy-to-let market. But most importantly, we've developed unique proprietary technology to provide the fastest mortgage process in the country and replaced decisions in Principle (DIPs) with Habito Instant Decision which involves deeper checks at the outset, guaranteeing greater certainty and speed. The range has been designed with customers at the front and centre. It follows extensive landlord customer research which called for more clarity, fairness, speed, ease and innovation in a category that for too long has been characterised by delays, uncertainty and a distinct lack of empathy.
8. What advice would you like to give to the startups?
Now is a really good time to enter the market from a trust standpoint, as consumers are more willing than ever to give new companies a try. As a result of this, funding is also more accessible – particularly for consumer businesses. The best advice that I took is that you have to be solving a real problem. Ask yourself what you've struggled with in your life. It's likely you're not alone and it could be a great foundation to start your business idea. And don't spend too long building something before testing it in the real world, because almost all your assumptions will be wrong!
9. How do you prepare for a technology-centric world?
Take finance for example – fintech has been propelled from the margins right to the centre of the banking industry in just a few short years. The explosion of financial technology in the past decade has brought deep innovation and change, and in particular, a commitment to services focused on customer experience. Agile, tech-powered, financial startups like ourselves, alongside consumer banking, business lending and invoicing have nibbled away at the large institutional incumbents. And this competition has forced the behemoths to change too. So we're seeing innovation everywhere, albeit at different speeds of roll-out and adoption – we're in a technology-centric world right now. I'm not sure how well you can prepare other than knowing there's a lot more innovation to come, be open to its opportunities by keeping up to date to date with the latest technology news and possible consumer applications of emerging tech.
10. Can you tell us about your team and how it supports you?
The culture within Habito is key to how we support each other to reach our business goals. We couldn't possibly achieve what we need to if we don't nurture our culture; it's our foundation. Habito has four values which have existed from day one and have stayed strong since the business started with just three people in my kitchen! They are 'Empathise with Purpose', 'Build Better Things', 'Be 100% Responsible' and 'Have Backbone'. We see empathy as a strategic tool and our critical competitive edge. It shows us what our customers need – be it something measurable like a fast process, or more subtle like emotional security. What our customers need become our goals as a business. Understanding our customers gives us the confidence to have daring ideas and push and challenge each other. That's how we do our best work, together.
11. What are the major developments you are planning, in recent time?
Before Habito, the mortgage industry hadn't innovated in 30 years. On starting the company we quickly realised that in order to bring the market transformation we wanted to see, we would first need to rebuild it from the bottom up. That's why we've spent the last 18 months building our own mortgage products which allows for a fully integrated and digital experience from application to approval. In the coming months we hope to bring out further product ranges for landlords as well as residential products.
12. Which book are you reading these days?
Ask The Dust by John Fant
13. We have heard that you have a very joyful work culture, we won't mind having a look at some of the pictures?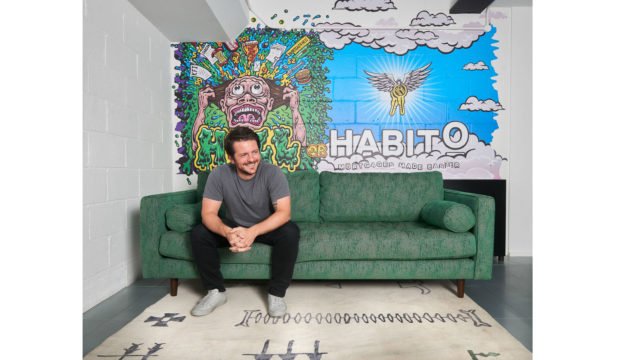 14. Can you give us a glance of the applications you use on your phone?


FTB News Desk