Larry Hipp brings more than 14 years of experience in the technology and product development field to his role at Brightwell. He has a proven track record of creating expertly crafted digital products that deliver comprehensive value. Unlike many technologists, however, Larry is uniquely able to connect all the critical elements of digital strategy and performance expertise to develop a product that excels in user experience, functional software, and digital marketing combined.
1. Tell us about your role in Brightwell?
As the Chief Operations Officer I work with and lead all functions that move our product from point A to B. I oversee product, technology and customer service strategy.
2. Can you tell us about your journey into this market?
I spent the first 10 years of my career building banking software. My first software engineering job was writing check imaging with BISYS Document Solutions. Since then, I've built ACH clearing and wire transfer products focused on the community banks and asset management and portfolio management software with Raymond James. At Brightwell, I work with remittances and banking partners to provide a challenger bank to the global migrant community.
3. How do you think technology is developing the Finance Sector?
Technology is making everything more accessible. There has never been an easier time to open a bank account, save for a house, buy stock or get a loan. Fintech has rushed through the financial sector over the last decade, making access to financial tools easier and often cheaper for consumers.
4. How has digitalization enhanced the methods of payments?
Payments have become increasingly digital over the last 20 years. Today, paying for something is as easy as tapping a card, phone or watch to a POS terminal. This digitalization has pushed payments to become faster and faster, and resulted in many types of payments that are available for instant settlement. Around the world, countries that operate predominately in cash are moving digital. If you look at many of the Southeast Asian countries, the rise of apps, such as WeChat, have completely changed how money flows through an economy.
5. Can you explain what features of your platform protects your customers from frauds?
Our platform leverages internal and third-party tools to protect our users. Over the last 10 years we've developed highly customizable tools to combat fraud globally. The tools needed by users from Spain are very different from those for people from Colombia. When we can, we implement and leverage third-party tools that bring a special focus to a specific problem.
6.How has allowing multi-currency transaction with mobile-first platform helped in the growth of Brightwell?
We deliver choice and control over how users send and spend their money, delivered in one unified platform. Sitting at the intersection of digital banks, remittances and domestic P2P, Brightwell is uniquely positioned to capitalize on the holistic financial service opportunities in the global market. Allowing our users to send money home almost anywhere in the world has enabled our business to grow by 300X in the past three years alone. Today, we facilitate over two million transactions each month. In 2019, Brightwell facilitated over $2 billion in payments to users across 140 different countries. This all starts with a great user experience and for us, that means a focus on mobile, transparent communication and intuitive flows.
7. How do you differentiate your payment solutions from your competitors?
In the past decade, we've seen a tremendous rate of innovation in cross-border payments. It's hard to imagine that only ten years ago the options for sending money internationally were limited to a handful of traditional remittance players, banks and the post office. If you wanted to send money internationally, your choices were expensive, slow and cumbersome. The concept of fast, simple, low-cost, cross-border payments were just starting to be conceptualized. Online remittance services were not available for most individuals, and mobile remittance options did not exist. To the global worker, many of whom left home in search of income, this was an accepted – albeit painful – reality that caused an additional strain on their financial circumstances.
Today, we are seeing a shift in consumer expectations driven by the evolution of Fintech. Cross-border fees and exchange rates will continue to be squeezed as consumers demand faster, cheaper and easier ways to send money home. Many cross-border providers know their world will dramatically shift in the next 5 years due to consumer pressures and advances in money movement.
Brightwell, seeing this shift, has already made strategic moves to disrupt and fundamentally change the way global workers send money home. This first started with providing choice, control and convince to our users. Today, Brightwell is the only product that aggregates multiple remittance providers into one easy-to-use experience.
8. What advice would you like to give to Startups?
There are many philosophies on the best way to bring a product or service to market. My advice is to get close to your customers, as fast as possible. You might have a great idea that you think is going to change the world, but until you test your theory (over and over again) with the end users, your ability to get into the market with something that people care about is limited.
The thing that will separate your startup from the next is your ability to understand the "why" behind the problem
that you want to solve in the world and hire people who are intrinsically motivated by your vision. When those two things come together you set yourself up with the greatest potential for success.
9. Which Startup technology has grabbed your attention?
It may sound cliché, but I'm really watching Artificial Intelligence/Machine Learning right now. The technology is all over the place at the moment but should come into sharper focus over the next couple of years. Startups that training machines to detect fraudulent transactions and monitor for unusual user behavior could be very beneficial to consumer safety. The volume of data generated is outpacing the ability for a human to follow. Today, we can build very linear models to detect known and predicable patterns. Having technology that can detect this in real-time may sound like science fiction, but the technology is getting closer.
10. How do you prepare for a Technology-centric world?
You have to continue trying new things. Technology changes fast. You can't be afraid to get into a new piece of tech and play around with it.
11. Can you tell us about your team and how it supports you?
We have an amazing team here at Brightwell. Referring back to my advice to startups, we've found our "why." We are building a company that is fully focused on solving problems for a community of people that have traditionally been underserved by the financial community. At our core, we're on a mission to help people. Not only have we been on this mission to develop our product and services, but also to find people who are motivated and inspired by our purpose. We want someone who is both amazing at their craft and super passionate about helping other human beings. In my humble option, we have done an amazing job of hiring people whose passion and craft align with our vision. This makes my job easier every day. We have a team that is naturally motivated because their love for what we are trying to do for the world comes through in their daily work.
12. What are the major developments you are planning, in recent time?
Right now, we are working to open our platform beyond the cruise market to other migrant workers around the world. Our ultimate goal is to become the challenger bank for all global workers.
The anytime, anywhere availability of the digital economy is something we've come to expect in the Western world. However, exposure to technology is vastly different across the globe and in countries where people are leaving home to find work. Today, over 2 billion people are unbanked and underserved in the marketplace. This offers tremendous expansion opportunities for companies that can adapt to the unique needs of these consumers and understand the global macroeconomic pressures at play.
Brightwell has spent the last 5 years building the challenger bank for the globally diverse community of maritime workers. We've discovered the smartest path to creating a fintech solution that meets the regulatory requirements of multiple countries, crosses language barriers and addresses the unique needs of multiple nationalities and economies. Building this platform takes considerations that go far beyond tech specifications. It's our mission to give global workers greater control over their finances and make it easier to manage, spend and share their income.
13. Which books are you reading these days?
• Why We Sleep
• The Trillion Dollar Coach
• The Secrets of Sand Hill Road
• Beyond Weird: Why Everything You Thought You Knew about Quantum Physics is Different
14. We have heard that you have a very joyful work culture, we won't mind having a look at some of the pictures?

15. Can you give us a glance of the applications you use on your phone?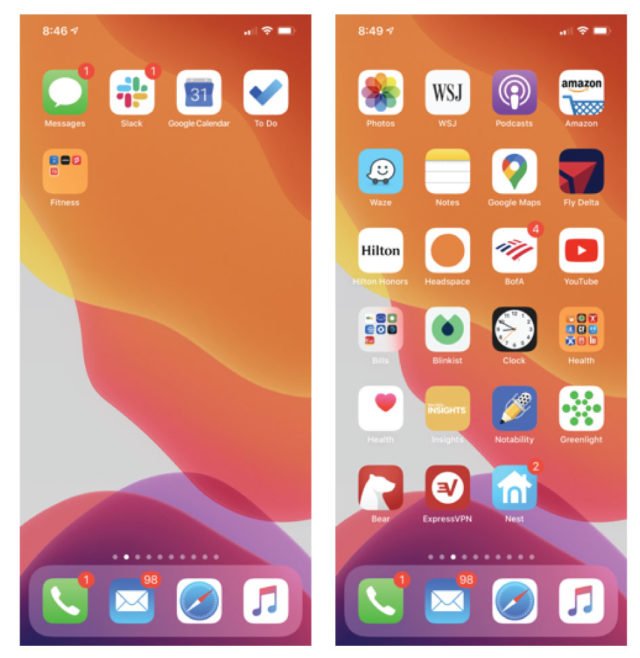 FTB News Desk