Chris Doner founded Access Softek in 1986 and is presently the CEO of the company. Started in California, today Access Softek has offices in California, New York and Chicago. They were mobile-first in the era of flip-flop mobile devices and presently they offer an enterprise suite of cutting-edge software representing the Four Pillars of financial services: mobile banking, online banking, lending, and account opening.
1. Tell us about your role in Access Softek?
Access Softek has always focused on innovation. As founder and CEO, it is my job to make sure we never slack in our focus on innovative solutions. To keep our finger on the pulse of the market and our clients' needs, I'm in constant communication with our clients as we work together on product direction.
2. Can you tell us about your journey into this market?
Our first entrance into financial software was a collaboration with Microsoft in the late 90s developing their Pocket Money product along with components for Microsoft Money. From there, we started working with banks and credit unions to provide them with innovative digital solutions.
3. How do you think technology is developing the Finance Sector?
Technology is changing every aspect of the finance sector. Those companies that are slow to move will be left behind. Those companies focused on the right innovations will grow and thrive.
4. How is digitalization redefining the banking sector?
The digital transformation is redefining expectations of what a financial institution is, how they operate, and what services they provide. Competition is no longer local. It is no longer about who has the closest branch. This creates enormous risk paired with enormous opportunity for every financial institution.
5. How do you define your Mobile Finance Manager Service (MFM)?
MFM covers all channels including phone, watch, voice, tablet, and soon your car. It allows you to manage your finances anywhere, anytime.
MFM made fintech history: it was the first downloadable application for mobile banking and the first triple-play mobile banking app. We first released it for dedicated apps, browser-based WAP, and SMS banking. Today, every channel has evolved to keep pace with changing times and tech.
6. How has your partnership with DeepTarget benefitted your existing customers?
DeepTarget provides an enhancement to the extensive marketing and advertising facilities in our products. It makes it easier and faster to target ads to the right people at the right time in order to produce substantial revenue from the digital channel.
7. What are your predictions about the future of digital banking?
The digital transformation speeds along at an accelerating pace. We will continue to see efficiency and speed of service arising from real-time, end-to-end integration, smarter A.I.-based applications, and a reduction in the number of people hours required to provide the same services. As I answer these questions, the World Health Organization has just declared COVID-19 a pandemic, and I can't help but think about how financial institutions forced to shut down branches will find themselves wholly reliant on their digital banking solutions.
8. What advice would you like to give to the Startups?
Find a niche. Avoid venture capital. Be completely customer-focused.
9. Which Startup technology has grabbed your attention?
The success of robo-advisors has created an important new opportunity in wealth management. Access Softek is responding to that opportunity with an innovative robo-advisor product as part of a fully integrated digital transformation package.
10. How do you prepare for a Technology-centric world?
By keeping pace with the rate of change.
Being slow and cautious and avoiding risk is no longer a strategy that will work in this rapidly changing world.
11. Can you tell us about your team and how it supports you?
The CEO's role is better described as supporting the team, rather than being supported by the team. The results we produce come from the people of our company, our team, working together.
12. What are the major developments you are planning, in recent time?
We have four significant new products we are rolling out: an integrated robo-advisor, an omnichannel chat that includes video, real-time fraud control, and biometric authentication for members (recently a Best of Show winner at CUNA GAC).
We continue to innovate with our existing products, too.
13. Which Book are you reading these days?
"Grant" by Ron Chernow.
14. We have heard that you have a very joyful work culture, we won't mind having a look at some of the pictures?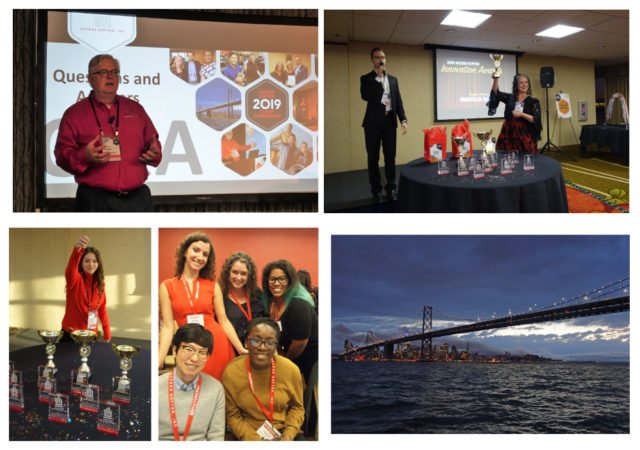 15. Can you give us a glance of the applications you use on your phone?
Uber, DoorDash, mobile banking apps, Skype, Outlook, chess, and (I hate to admit it and I'll be deleting it soon but…) TikTok.

FTB News Desk