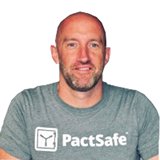 1. Tell us about your role in PactSafe?
I am the CEO & Founder of PactSafe.
2. Can you tell us about your journey into this market?
PactSafe's solution powers millions of contracts that are signed with a single click, which is perfect for the high volume, standardized contract world. It just so happens that the finance sector is full of those types of contracts.
3. How do you think technology is developing the Finance Sector?
Tech adoption in finance is no different than any other sector. It's all about adapting to the changing expectations of the customer. Consumers and businesses alike expect seamless and self-service experiences now. Tech is a great enabler of those experiences.
4. How has digitalization helped in reducing time consumption taken for legal procedures?
Our solution is laser focused on making signing contracts a seamless experience that does not slow down underlying transactions. Behind the scenes that means treating contracts like data and information rather than documents. When you change the way people sign contracts (i.e. with a click), you change everything about the rest of the contracting process.
5. How does PactSafe contribute in reducing legal risks for an organization?
PactSafe ensures that businesses have airtight, enforceable contracts, as that is their first line of defense against legal action. Traditionally, increasing the volume and velocity of business transactions means an increased risk profile. Lawyers, of course, hate that (I would know; I'm a lawyer). PactSafe sees to it that businesses are still protected, even as volume and velocity increases exponentially.
6. How has the launch of Chat-to-Sign benefitted PactSafe's clients?
Just as PactSafe is able to meet customers where they are, with Chat-to-sign, our customers can do the same for their customers. As online chat became more prolific, our customers needed a way to get contracts signed quickly and seamlessly during an online chat. They can now get contracts signed by on-the-go users, which was impossible with legacy eSignature products.So far so good!
7. Can you describe in detail how does you contract acceptance platform works?
We've all seen this: "By checking this box, you accept these Terms of Use." PactSafe makes contract acceptance as simple as checking a box. Our solution invisibly plugs in wherever contract acceptance is needed across the entire digital ecosystems of our customers. Once that is done, everything else is automated — publishing terms updates, deploying new contracts, generating proof of acceptance, and more. It also keeps records of who agreed to a contract, when they signed, and what version was live at the time of signing. It's a complete solution for clickwraps.
8. What advice would you like to give to the Startups?
Startups take a lot of risks, but that is part of the process. But a lot of them take unnecessary legal risks. It's never too early to put legal risk-reducing practices in place, and those should always be implemented before the startup begins to scale.
9. What is the Digital innovation in Fintech Industry according to you that will mark 2019?
More self-service products and high-velocity transactions will drive adoption of tech that enables the same.
10. How do you prepare for a Technology-centric world?
Understanding how technology changes behavior and expectations at a macro-level is a good starting point. Applying that understanding to a specific business model and customer base, then anticipating what changes are coming is a good way to make sure you are creating and deploying tech the right way.
11. Can you tell us about your team and how it supports you?
As a general rule, we try to build a team of people that know way more about what they do than I ever could.
From there, I just point them in the right direction, stay out of their way, and help when I can. The result is an incredibly smart, hardworking, and high-performing team.
12. What are the major developments you are planning, in recent time?
Recently, we announced Snapshots, which is a first-of-its-kind feature that increases the defensibility of clickwrap agreements. Without Snapshots, it's incredibly difficult, if not impossible, to prove acceptance of clickwraps at scale.
13. Which Book are you reading these days?
Profit From the Core by Chris Zook. It's a great read for any business that has a broad addressable market.
14. Can you give us a glance of the applications you use on your phone?
Slack, WhatsApp, Quip, Google Keep and ChoreMonster (gotta keep those kids up to date on chores)

FTB News Desk