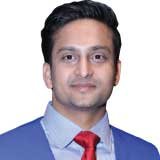 He is an Indian serial entrepreneur who was awarded an extraordinary status (O1) by the United States government for excelling his work on blockchain technology. With his vision, Auxesis Group and Cashaa, are both ranked amongst the top 100 most influential blockchain companies across the globe.
1. Tell us about your role in Cashaa?
I am the Founder & CEO of Cashaa, I am responsible for the company strategy, managing the various team leaders, building partnerships and making sure we have an ongoing, successful product delivery as per our roadmap.
2. Can you tell us about your journey into this market?
I have first learned about Bitcoin in 2013 and shortly after founded Auxesis Group in 2014, which was one of the first blockchain companies in India. Today it is an established leader in the space, working with the Government and other institutions in India and internationally. The company recently successfully launched Auxledger public network at Blockchain Summit India 2019, the first annual conference as part of the government-supported Blockchain2030 initiative to transform India's e-governance with blockchain technology by 2030.
In 2016, I founded Cashaa in London, with the aim to build a bridge between the crypto and fiat world. We soon learned that such a bridge is especially needed for businesses in the crypto space, which always have been declined by traditional banks. We decided to focus on this overlooked sector, and today have already registered 173 businesses for our crypto friendly accounts, shortly after our beta-launch.
3. Can you briefly describe what Cashaa is?
We are an emerging challenger bank focused on business. Our mission is to bring crypto into everyday banking. Our product includes a full UK current account linked with a Mastercard as well as a secure and compliant multisig crypto wallet with a one-click swap between crypto and fiat. We have dedicated plans for businesses at any stage, whether they are emerging startups, SMEs or a larger business. Currently, we are targeting crypto businesses as go to market strategy.
Crypto-related businesses are underserved by banks; our goal is to create a hassle-free experience for STO-backed companies, exchanges, wallets and brokers.
4. What are the major developments you are planning, in recent time?
After our launch this month, we in the coming months will focus on onboarding businesses and learn from their feedback. We have always worked closely with our community, which we see as one of the keys to our success.
Other recent plans for the next months include adding more cryptocurrencies to our account and release the mobile version.
5. What are your views on cryptocurrencies? How do you think the introduction of cryptocurrency is changing the market around the globe?
Cryptocurrencies ideally would be used by billions of people as a fast, cheap currency for real life, global, p2p transactions, and not as a speculation tool for a small minority of people.
Cryptocurrencies can transform trade globally, not only increase the efficiency of existing trade, but connecting all parts of the world and can give a boost to areas that previously were not attractive to trade with, and overcome outdated restrictions that the traditional system is placing on large parts of the world simply based on where you were born or where you live.
6. How do you think blockchain technology is changing the Financial Sector?
Aside from the advantages mentioned above, a blockchain's main advantage being an immutable ledger is the ability to hold everyone accountable, forever, which should make it appealing for traditional institutions and individuals alike, as it could make banks re-gain users' trust. Together with using the AML/KYC tools which we are using to ensure that compliance standards are met, the use of cryptocurrency can actually lead to increased compliance. We hope the understanding of not only blockchain technology, but also cryptocurrency will be as of something supportive to the law, and not against it.
7. For the better understanding of our audience, can you tell us about the Services Cashaa offers and how they function?
For Business Cashaa provides following services.
1. UK Current account linked with MasterCard
2. Real-time conversion between fiat and crypto
3. Secure Multisig Wallet for crypto storage
4. API for accepting Bitcoin payments and get converted into fiat in 150+ currencies
5. Turnkey solution to accept debit and credit card payment to sell crypto
For Personal Users:
Multi-currency – multisig wallet for crypto storage
Exchange between crypto and fiat from 150+ currencies
Buy crypto using credit and debit cards
Users have an option to pay for the fees in fiat or in CAS tokens, and can get up to 50% discount if the fee is paid in CAS tokens.
8. India has a bit harsh view towards Cryptocurrency and Blockchain, Cashaa being the Fintech partner of Blockchain Summit India 2019, what are your views?
Like most institutions around the world, when first hearing about it, the Government has made the distinction between the two, being interested in using blockchain technology for multiple government services on a state and national level already for over 2 years. However we now for the first time have a serious chance that the Government now will regulate cryptocurrency shortly, as the Supreme Court gave a 4-weeks deadline starting from 25th February. Notably, for us, this deadline was given right after Blockchain Summit India was held, 22-23rd February, with government representatives from all relevant departments attending.
9. Can you tell us some details about 'Auxledger Public Network' which was launched at the recent Blockchain Summit India?
Aux-alpha, the public Auxledger network, is an enterprise network that has been built according to the requirements and regulations of Indian IT and data laws and has a specifically designed protocol which solves the issues of fee volatility and on-chain data privacy. Auxledger's private network has already been used by Indian state governments, NITI Aayog and many international organisations and Fortune 500 companies for over a year, and on-boarded over 53 million users.
Cashaa has partnered with Auxledger in 2017, and we are planning to move our CAS token to Auxledger shortly.
10. Do you think governments around the world have started opening up towards cryptocurrencies?
Cryptocurrency has never really been banned to use anywhere, but at worst been in a grey zone. Most countries have had a positive stance already for some time, some as early as 2013. Now 6 years later, India actually is one of the few countries left that are yet to open up, but we are optimistic that after having taken some time to learn about it, we will shortly see a sensible regulation.
11. Can you tell us about your team and how it supports you?
We have a team including experts from various areas, such as traditional Banking from some of the world's leading banks, as well as successful entrepreneurs, and technical experts who have previously worked on other pioneering blockchain projects. With such a wealth of experience, we have all we need to bridge the old and new world of money and appeal to users from both sides.
12. What is the vision, on which you and Cashaa are working on?
We will focus on all unbanked businesses, not only the unbanked crypto space but later this year also from other industries which are struggling to get bank accounts, such as cannabis and gambling businesses. From early next year, we will include accounts for individuals as well.
Our vision is to eventually become a bank not only including the full services of a traditional bank but the equivalent in crypto as well, all together. We are also proud of the many requests we already received from entrepreneurs who are looking to build their businesses with Cashaa APIs, and take our vision further.
13. Which movie inspires you a lot?
People like Mahatma Gandhi, Mukesh Ambani, Tata family are my inspiration and any movie made on same ideology inspires me.
14. We have heard that you have a very joyful work culture, so can you share with us some of the fun pictures of your workplace?
Yes, we have a great office culture, with most of the team working together in Mumbai, where we are also celebrating our successes together.
15. Can you give us a glance of the applications you use on your phone?
Sure, the most commonly used are Skype, Whatsapp, Uber, Airbnb, Gmail, Camcard, Uber eats, Shazam and Zoom.