Keith Ginter, President and CEO of Thirdstream lives in Lethbridge, Alberta, Canada. Ginter co-founded Thirdstream and was its CTO and Chief Commercial Officer until 2017, when he assumed the role of CEO. Keith has spent most of his career in fintech, growing Thirdstream to where its retail and commercial account opening services enjoy an install base of over forty banks, trusts and credit unions in Canada. Keith is the father of six always growing children who take up much of his time. When not at home, in the office or in front of clients, Keith can be found on the golf course, perfecting his handicap with his wife and kids.
1. Tell us about your role in thirdstream
I co-founded thirdstream as a digital marketing and consumer acquisition fintech company almost 20 years ago. For most of our history, I was thirdstream's CTO and Chief Commercial Officer. I assumed the position of thirdstream's president and CEO in 2018.
2. Can you tell us about your journey into this market?
About 10 years ago we identified a series of unmet needs for financial institutions. Those needs centered on helping financial institutions acquire retail and business account holders quickly and efficiently, and to bring the frictionless account opening experiences consumers were enjoying in other online experiences to banks, trusts and credit unions.
3. How do you think technology is developing the Finance Sector?
Technology is developing quickly in the financial sector, and every year it seems to be developing faster. In my view, the reason the pace of technology is accelerating in the financial services space is because banking is by its nature a conservative space, dominated by large players and regulatory requirements. This acts as a natural constraint to the speed of technology proliferation.
I'm of the view that three trends are driving the acceleration of technology in this space. The first is consumer expectations. Consumers expect their interactions with their financial institution to be as seamless as their most preferred online experience – think Amazon, ebay, tencent, Alibaba. The second is consumer choice.
Emerging competitors to traditional financial institutions are encouraging a demand for speed to market, which in turn is driving the pace of technological change.
Think Rocket Mortgage, Mogo, Kabbage.
The third is the proliferation of open banking standards, where the consumer is ultimately in control of their data. This is ushering in competitive virtual banks positioned as peer competitors to existing bricks and mortar banks. Think Ally Bank, Chime, and Marcus. The latter is an example of a traditional financial institution, Goldman Sachs, wading into the deposits and lending space, and using technology to rapidly pickup market share.
These three trends are key levers I see pushing the development of technology in the financial services space.
4. How has digitalization contributed in making onboarding process more efficient?
Our API-driven ecosystem is giving financial institutions the ability to meet the needs of prospects and existing account holders faster. From acquiring applicant responses, verifying identities online, funding accounts real-time and updating existing enterprise systems seamlessly, thirdstream is helping financial institutions provide superior service, reduce cost, and delight account holders.
Onboarding and account applications are about speed, convenience, and confidence in the outcomes, for the consumer and the financial institution. Digitization of the process is, in my view, the secret sauce here. thirdstream's tagline is "opening accounts anywhere, anytime, from any device". This speaks to consumers' expectations around a hassle-free experience, and financial institutions' need for efficiency.
Our typical retail account opening experience can be completed in under five minutes. that consumer experience is golden for banks, trusts and credit unions. When we launched our business account opening solution set, financial institutions reported how they had reduced the account opening time in some cases by as much as seventy-five percent. The consequence was a growth in referral opportunities for those financial institutions.
5. How does your platform help bank in identity verification and account opening?
thirdstream's ecosystem presents a configurable workflow that leverages APIs to identity verification services, credit agencies and fraud detection information providers. The workflow guides the applicant through a process that is compliant with regulatory requirements, and confirms the identity of applicants using a permuted index of identity repositories.
Traditional account opening service providers experience a fifty percent approval rating. In other words, one of every two applicants is declined. This is typically because the solution employs a limited number of identity verification services. thirdstream employs a multitude of underlying providers. As a result, we build a profile on the applicant that increasingly improves confidence in the identity of the applicant and we typically achieve over eighty percent approvals. In other words, a banker can expect that approximately eight of every ten applicants will be approved.
We then use real-time funding and payment switching services to improve the 'stickiness' of the applicant. If an applicant is looking to move to a new financial institution, the final steps enable them transferring funds, in real-time, to their new account, and then switch pre-authorized payments to their new financial institution, as part of the same session.
6. We recently covered the news about your partnership with SilverCloud, how will this partnership benefit your customers?
SilverCloud provides thirdstream with the 'last mile' in supporting the consumer through the account opening process. Our combined solution helps financial institutions deliver contextual support during the online account opening process. By integrating with a client's existing knowledge base, especially on products, policies and requirements, we drive down consumer application abandonment rates. Customers can leverage chatbot and live chat options as well to ensure their support requests can be answered.
For our clients, this avoids expense in standing up support mechanisms as part of their commitment to digitization, since SilverCloud's solution connects directly to existing content and serves it up seamlessly with our account opening solution set.
We launched our partnership in early Q1 2020, and expect to take the first client live before the end of the March 2020.
7. What advice would you like to give to the Startups?
My advice would be to 'pick a lane', and find areas where you can help someone do what they do best. I've spent most of my career in the fintech space, and have seen many entrants and almost as many exits. I attribute that to people being focused on their own needs first, and, as a consequence, bouncing around looking for that profitable exit. I think every company has experienced moments like that. The focus I have brought to thirdstream is to have the team focus on how to do digital account opening better than anyone else in the space, and become a trusted adviser to our clients.
We inculcate the team with the 'pick your lane' ethos, and, since doing so, we have experienced unprecedented growth. I think that's a successful formula for startups.
8. Which Startup technology has grabbed your attention?
Using the already-ubiquitous technologies in our handheld devices to provide virtual health support and diagnostic services is an area I'm watching. In Canada, Babylon by TELUS Health is one such example. Internationally, SingHealth in Singapore is another example.
Another is mental health startups focused on addressing employee burnout, that help prevent needless turnover. That's a growing challenge in our technology driven world, and solutions designed to address this are something that get my attention.
9. How do you prepare for a Technology-centric world?
That's a difficult question to answer, and the answer I give likely evolves as technologies evolve. My instinct – and I say that with some bias given I'm in the middle of the fintech space – is to embrace it. Recognizing that technology is a growing part of our daily lives, continually asking yourself about the value of the technology being presented, what it can do for you, and how it can help others, is how I prepare for that tech-centric world.
10. Can you tell us about your team and how it supports you?
Our team is small and focused, with many of our leaders having been with thirdstream almost from the beginning. It creates camaraderie, trust and community that keeps people refreshed and creative as we deliver the services that help financial institutions and consumers. We've experienced significant growth over the past year or so, and I'm proud of the talent we've been able to bring into the fold!
11. What are the major developments you are planning, in recent time?
Our growth has focused us on how to deliver quality with speed. We recognize that digitizing the account opening experience sometimes puts us in a crowded space. Ensuring we deliver quickly is important for financial institutions. The days of multi-year enterprise implementations, at any level, are over. We demonstrate this every day, deploying any one of our digital solutions, typically in under sixteen weeks.
Beyond that, we have a very robust product management plan designed to introduce our solution set to a wider audience in the financial institution space, and test how we can help the other pillars of financial services (wealth management, payments, insurance, lending) realize the benefits from what we see as a continually enhanced account opening experience.
12. Which book are you reading these days?
I've got two books on the go. the first is Atomic Habits, by James Clear. I'm always looking for ways to improve my performance, identify and modify my own behavior to improve my life the lives of those around me. The other is Talking to Strangers, by Malcolm Gladwell. Aside from enjoying the work of a Canadian author like Gladwell, I'm fascinated by his findings that often cause me to see things from a completely different perspective.
13. We have heard that you have a very joyful work culture, we won't mind having a look at some of the pictures?

14. Can you give us a glance of the applications you use on your phone?
I'm not sure it provides enlightenment, but this screen probably reflects the life I'm leading right now!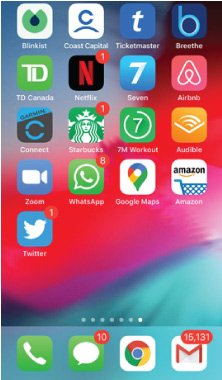 FTB News Desk