When the market takes a tumble, many fainthearted investors panic and rid their portfolios of stocks that are taking a beating. But such investment decisions can be a big mistake.
"Average investors earn below average market returns and the reason is they let emotions guide their buy-and-sell decisions," says Dr. Joseph Belmonte, an investment strategist and author of Buffett and Beyond: Uncovering the Secret Ratio for Superior Stock Selection (www.buffettandbeyond.com).
To illustrate that point, he suggests looking at research by Dalbar Inc., a company that studies investor behavior. Dalbar found that in the 20-year period that ended Dec. 31, 2015, the S&P 500 averaged a 9.85 percent annual return, while mutual-fund investors saw average yearly returns of just 5.19 percent. Payments
"What this study tells us is that buying and selling is not working for the average investor," Dr. Belmonte says. "Thus, investors should consider a buy-and-hold strategy. The question is why don't they? The answer is the average investor does not have the confidence to stay with good stocks during both good and not-so-good times."
But how do you know the stocks you have invested in are good ones? Dr. Belmonte says you should:
Look for consistency. Find stocks that are not only making money, but are doing so consistently year after year. "In other words," Dr. Belmonte says, "we want stocks that are making profits 24 hours a day, seven days a week and 52 weeks a year." For Dr. Belmonte, McDonald's is a good example. Although the price of the stock can go up or down on any given day, the value of the stock increases over time. "If we know we have stocks that are increasing in value each and every day, then when the market and our stocks' prices decline, we will have much greater confidence that the price of our stocks will come back," Dr. Belmonte says.
Check how the stock performed in rough times. Look at how a stock performed during the market decline from June 30, 2008, to March 30, 2009. The S&P 500 fell almost 50 percent at one point over this period and was down 40 percent on March 30, 2009. Yet, Dr. Belmonte notes that certain stocks weathered the storm much better than the overall market. McDonald's, for example, fell just 10 percent during the period and was at break even on March 30, 2009, he says. Home Depot fell as much as 20 percent, but by March 30, 2009, was at the same price as it was on June 30, 2008. "In other words, it didn't lose any money while the S&P was still down by 40 percent," he says.
Examine a company's earnings history. Dr. Belmonte says his firm, Buffett and Beyond Research, uses a specialized Return on Equity over the past 10 years that tells them if a company is consistently growing its earnings year over year. For investors who don't have the tools to do that, he says, simply go back 10 years and look at the company's earnings. If there has been steady continuity to earnings growth year over year, investors can have confidence to stay with the company even when the stock price is declining.
"If you fill your portfolio with stocks that are consistently making money," Dr. Belmonte says, "then these stocks will have staying power both in your pocket book and your mind. That means you will not lose confidence in your holdings when the market goes through its tantrums."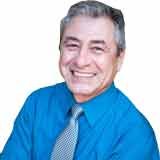 Uncovering the Secret Ratio for Superior Stock Selection (www.buffettandbeyond.com), is an investment strategist and stock market consultant. He is fond of saying, "If you want to live on the beach like Jimmy Buffett, you've got to learn how to invest like Warren Buffett." Dr. Belmonte has developed hedged growth income strategies for family offices, and has lectured to numerous professional and investment groups throughout the country. His weekly video newsletter is sent to thousands of investors, money managers, and academics both nationally and internationally.
FTB Guest Features