In this insightful discussion with Joe Ehrhardt of Teslar Software, learn how automation can help community financial institutions streamline their operations.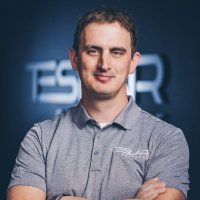 As CEO and founder of Teslar Software, Joe shapes the company's strategic vision, guiding relationships and company culture, and equipping the team with resources for effectively serving our clients. Joe launched his career as a teller and has over 20 years of banking expertise. Inspired by the impact community institutions have on local consumers and small businesses, Joe created Teslar to empower community bankers with the tools they need to leverage efficiency and boost confidence. Outside of Teslar, Joe is an avid cyclist and enjoys spending time with his wife and four daughters. He holds a bachelor's degree in Computer Engineering and a master's degree in Information Systems from the University of Arkansas.
Joe, can you provide us with some insights into your background and how you founded Teslar Software?
I began my career as a teller at Arvest Bank and later joined ANB Financial as the bank's first software developer. At ANB Financial, I built a dedicated team challenging what banks could do with technology. My team built the bank's internet banking system, exceptions system, gift card system, onboarding and doc prep. I also led a team focused on business process reengineering.
During my time at community banks, I witnessed firsthand the impact that these institutions have on local consumers and small businesses. I also saw some of the bottlenecks created with manual, dated processes and systems, and knew that I could help community banks overcome these limitations through technology. It was this belief that inspired me to create Teslar Software and provide banks across the country with the necessary tools to grow with efficiency, transparency and confidence.
What is the strategic vision of Teslar Software as a company?
Our vision is to create highly efficient banks. Teslar's technology accomplishes this goal by empowering bankers, streamlining processes, integrating multiple systems and making it scalable. These are the four foundational pillars of everything we do at Teslar Software.
How does Teslar's lending process automation platform benefit community financial institutions?
Teslar Software's lending robotic process automation (RPA) tools are helping community financial institutions across the country streamline internal processes while enhancing both the employee and customer experience. The Teslar platform creates automated workflows, integrates siloed systems and centralizes data, helping bankers improve accuracy and boost transparency across all departments.
The Teslar platform, which includes functionality such as loan review, exceptions tracking, RPA/operational workflows and portfolio management, enhances the lending process, saving time and reducing costs. Banks that leverage Teslar's SaaS solution operate with efficiency ratios 14% better than their peer groups.
Can you explain how Teslar transforms commercial lending and provides access to centralized, relevant information?
Teslar's lending process automation tools modernize processes and bring together siloed systems, which gives bankers easy access to more holistic data about both individual relationships as well as the overall portfolio.
Teslar offers over 20 modules, including loan review, exceptions tracking, workflows and portfolio management, empowering banks to streamline the end-to-end lending process, saving time and reducing costs. Community institutions leveraging our SaaS solution are optimizing efficiencies, freeing their employees to spend more time forming meaningful customer relationships.
What led to the development of Teslar's configurable platform for community financial institutions?
Originally, I founded Teslar primarily to help banks simplify their exceptions tracking methods. However, once we began partnering with customers and talking about their daily processes, we discovered the need for streamlined workflows far beyond exception tracking. From front-line retail banking to back-office loan operations, too many institutions deal with disjointed systems, inefficient processes and outdated technology. That's why Teslar has evolved like it has, now with over 20 modules. We remain dedicated to improving banks' processes through innovative technology.
As the CEO, what are your key responsibilities in shaping Teslar's strategic vision and overseeing team culture?
As founder and CEO, I shape the company's strategic vision, serve as chief product architect, and ensure employees have access to the resources they need to grow and be successful.
Each employee has been instrumental and keys to our success thus far, which is why it is so important that we place emphasis on growing our employees. We must empower them, let them fail (and let them know that is OK and expected), and be blown away when they succeed in ways you never expected. This can only be done where there is a foundation of trust, we operate as one team, remain agile, challenge the status quo through innovation, and never shy away from the hard things.
What are some key challenges faced by community financial institutions in commercial lending, and how does Teslar address those challenges?
Community banks are challenged with operating as efficiently as possible, especially in light of today's economic uncertainty. As loan volumes are slowing for many, bankers want to ensure they're doing everything they can to retain the loans they have.
Teslar helps bankers retain loans and borrower relationships in several ways. First, we streamline and digitize the renewal process, making it easier and simpler for the borrower to continue the lending relationship. Removing friction from the process significantly helps a bank's renewal rate. We also provide tools to help identify any red flags with a loan. Modules like special assets and annual loan review help bankers maintain a close pulse on the health of their portfolios. Plus, Teslar's comprehensive reporting provides newfound visibility, helping bankers maintain closer borrower relationships.
Can you discuss the significance of automation in streamlining processes for community financial institutions?
Leveraging automation can speed up and digitize what were previously cumbersome, highly manual tasks and processes. Instead of shuffling papers from desk to desk or spending inordinate amounts of time on clunky Excel spreadsheets, the use of sophisticated automation can route documents and share information in real time.
For example, with Teslar's automated workflows, banks can easily evaluate each lender's request, such as loan extensions, late fee waivers, collateral releases and more. The workflows then automatically route the request to the correct destination, generating an output that can include hundreds of data points pulled directly from the bank's core. The workflows can even be multi-staged, with Teslar's technology automatically alerting users of new requests or pending approvals for multiple people, regions, and/or departments. With our technology, banks are able to save time, boost efficiencies, and reduce the risk of human error. As a result, borrowers benefit from faster loan turnaround times.
The automation within Teslar also encourages transparency with every workflow, action and status. Team members can collaborate in real time. Employee productivity is further improved by the automatic population of data pulled from the core and mapped into the Teslar platform, eliminating the need for duplicate data entry. Plus, Teslar's sophisticated digital data gathering and accessibility eliminates the need for most paper reports. These enhancements enable lending departments across the country to operate with greater speed, confidence and ease.
What do you see as the future of commercial lending and automation in the community banking sector, and how is Teslar positioned to contribute to that future?
Commercial lending is often one of the most paper-fraught areas across a financial institution. Moving forward, we believe more community banks will embrace greater automation and digitization across all aspects of commercial lending. Those who fail to do so risk being left behind.
As many institutions debate potential use cases for emerging technologies such as OpenAI, Teslar understands the tangible ways automation can be used now to improve operations and the overall customer experience by reengineering internal processes. Teslar offers the tools and technology necessary for institutions to boost efficiencies, optimize margins and allow bankers to more effectively serve their customers.
Finally, what excites you the most about the work Teslar does and the impact it has on community financial institutions and their customers?
At Teslar Software, we firmly believe that community financial institutions are the bedrock of our nation's economy. That's why we strive to not just be a vendor for community banks but to be a strategic partner. We began as a single solution, exceptions management, and have today grown to have over 20 modules. Every additional module and product update directly comes from needs and requests of our community bank clients. We look forward to continuing to create new modules to empower community banks so that they can spend more time focusing on serving the needs of their local neighborhoods.