Tay Lip from ABC Technologies showcases how AI can redesign the Fintech industry in an efficient manner & how their company can contribute to this transformation

Tay Lip Sing is the Vice President, International Business at ABC Technology. He is overall responsible for the company's international business including sales, marketing, channels, support and branding. ABC Technology is a fintech company and award winner from World Economic, IDC, CB Insights, KPMG and Deloitte. The company develops patented deep-learning artificial intelligence integrating Natural Language Processing and Computer Vision. It's customers include the world's largest banks, stock exchanges and asset management firms. Prior to IBM, Lip Sing led the artificial intelligence and analytics team in IBM in Asia. As head of asia pacific for Oracle's virtualization business unit, he started and successfully grew the business throughout Asia Pacific. He also served as head of Asia Pacific for Canopy Cloud, a SaaS and PaaS cloud company. Lip Sing also successfully founded his own Java-based financial software business.
1) Tell us about your role at ABC Technology?
ABC Technology develops advanced deep-learning AI to process unstructured data. Our clients include banks, Hong Kong Stock Exchange, asset management firms, some of the largest sovereign funds in the world and insurance firms. The company was started in China in 2017.
I am overall responsible for all aspects of ABC Technology's business in the Asia Pacific (ex-China), Europe and America. My goal is to help to grow ABC's business and help to list the company. I plan and execute the market strategy such as what market space to go after and how, what type and size of teams to build, how to organize the teams, how to build demand for our products.
2) Can you tell us about your journey into this industry?
Before ABC, I was with IBM, one of the foremost leaders in AI, running their business for AI which included IBM's Watson AI.
For most of my 23 years in the IT industry, I was holding senior market positions for the leaders in the IT world which included Oracle, SAP, Sun Microsystems. So I have good understanding from my past experience on how to grow and manage the tech business across different situations.
I was also an entrepreneur: I founded my own tech company in 1999 developing Java software for the finance sector. I am able to use my own entrepreneur experience to help launch ABC into various markets.
3) How do you think AI and NLP are disrupting the fintech sector?
The finance industry is a natural sweet spot for AI and NLP and these technologies have huge potential to contribute to the finance industry.
The output of the financial industry is information—so factors such as ability to produce information more accurately and faster are very important.
For example, the party that is able to see a good investment opportunity in a particular stock, at an earlier time, is in position to buy a high-return stock at a lower price.
Artificial intelligence can therefore have a big area to play and contribute by helping to process and supply the information needed by the finance sector. And the finance company that has the edge in artificial intelligence would receive the edge in insights and might therefore potentially generate higher profits, get the customer before others, see the risks or profits that others do not. In a way, having the right artificial intelligence is like going into a fight with a bigger and better gun over your opponents.
At the same time, the finance sector has to absorb and work with a lot of information coming in from numerous parties and sources—so here we see the natural need for NLP in the finance industry. For example, before a bank can approve a loan to a company, it has to take in multiple sources of information such as financial report, to determine the credit worthiness of the company. The bank that is able to process the needed information faster, more accurately and from more sources, would be in a better position to make a more accurate assessment and get the business of the corporate loan faster. A lot of the sources needed to help make the assessment are written for humans, in natural daily languages (versus for computers). So the bank with the right NLP technology will be in position to reach a more accurate assessment faster and more accurately than it's competitors, and therefore seal a more profitable deal before others.
4) Can you explain to our audience in detail about your 'Everdroid.ai' product?
One of the major problems in the finance industry is that finance professionals has to deal with huge amount of data in unstructured document such as annual reports, financial reports, news in websites and data feed.
Data in these unstructured document cannot be easily automated because while the document in easily understood by humans, the format of the document varies document to document, and the words in the document might have multiple meaning. So computers are not able to recognize and process unstructured document for a long long time—until recently.
Everdroid.ai is an artificial intelligence software platform designed to recognize, process and automate unstructured document. It is an intelligent machine that can read and understand almost like a human.
Everdroid can process wide variety of unstructured document such as financial reports, news, emails. And one of it's unique strength is that it is able to understand financial tables, charts and graphs in annual reports.
By using Everdroid.ai, it's user could fully automate processes that used to take human weeks to do and finish the repetitive work in minutes and seconds instead.
Everdroid
Autmotes—The machine imitate human actions, releasing human from doing repetitive work and offer an fully automated end to end solution to user.
Recognizes–Reads and recognizes relevant information from document in all formats, such as uneditable-pdfs, scanned files and images.
Comprehends—It could intelligently understand and extract critical content from documents to shorten decision making time.
Self-Improving—Self learning mechanisms from it's Deep-Learning artificial intelligence lets the machine improve the understanding of document over time.
The benefits of using Everdroid are:
Faster Insights and Results
Because Everdroid is artificial intelligence, it is able to process insights faster and from more sources than humans can. Tasks that use to take humans days to perform are completed by Everdroid in minutes or seconds. For example, it is common to take an analyst or a relationship manage 4 hours to find, extract and compute financial ratios from an annual report. This task can now be performed by Everdroid in under one minute.
Productivity Boost
By using Everdroid, financial companies are able to free up using highly skilled and expensive professionals from using bulk of their time to perform repetitive low-level tasks, to far more productive use such as cognitive analysis, more personal time and personal touch with customers, creating creative financial deals. These helps finance professionals to perform more efficiently and effectively in their jobs.
Use Cases
By using Everdroid,
Banks are able to analyse and approve loans to corporations significantly faster and use resources more efficiently.
Banks will more accurately and timely understand their trade and associated risk positions.
Banks can notified of potentially out-of-compliance transactions more accurately and effectively.
Asset management companies can analyze new information faster and potentially buy at a lower price or sell at a higher price.
Asset management companies can analyze new sources of unstructured information to be aware of trade ideas that can yield higher alpha—financial returns above the rest of the market.
5) Congratulations for being Named on IDC's 101 Fast Growing APAC Fintech List! Can you tell us about ABC's journey to achieve this milestone?
The journey to win the prestigious IDC award is certainly not easy. The award is only possible because the founder and CEO of ABC Technology Mason Yang had the right vision, built the right team around him, had experience from prior successful exit from another tech company, and everyone in the company had the determination and perseverance to go through all the challenges from the initial startup to building an "A-list" customer base.
IDC made their own extensive on-ground analysis of the dominant fintech players within the region on factors such as addressable market, customer adoption, investments, innovation, and marketing.
"We are humbled and honoured to be receive this recognition from IDC. It shows that our deep learning-based solution is being embraced and adopted quickly by the market, especially by forward-looking organisations that leverage leading technologies to stride ahead. The listing is also a testimony of our proven work with our customers," said Mason Yang, Founder and Chief Executive Officer of ABC Technology.
Coming hot on the heels of the award by IDC, ABC Technology is recognized by the World Economic Forum as Technology Pioneer. It joins past winners of this award such as Airbnb, Google, Kickstarter, Mozilla, Spotify, TransferWise, Twitter, and Wikimedia.
"ABC Technology and its fellow pioneers are developing cutting edge technologies all over the world. Beyond their innovations, these firms are contributing greatly to improving the state of the world," said Susan Nesbitt, Head of WEF's Global Innovators Community, of which the Technology Pioneers community is an integral part of.
The award by World Economic Forum is a huge endorsement of ABC as a thought leader in the AI space and our potential to impact and change lives and business in the financial world.
6) What are the major developments you are planning, in recent time?
While we are getting good interest from banks and stock exchanges, we are now looking to add more people to focus on bring our artificial intelligence technology to grow further into the asset management space so that the asset management companies get alpha-generating information faster and they can perform their fund administration more efficiently.
We are also working with the audit firms to help them transform their audit business from physical form to digital form such as using our artificial intelligence to analyse bank statement.
7) What do you see as the future of AI in the finance industry?
Our vision is that in the future, many financial professionals will perform their work with the help of an AI Digital Assistant, similar like how the excavator has enabled boosted the productivity and effectiveness of the shovel.
Today, the finance worker still has to spend much of it's own time to manually search, extract, prepare, transform and present their work.
In the future, more and more of low-level tasks of professionals can be performed by the AI Digital Assistant. As more of these tasks can be performed autonomously by the AI Digital Assistant, the highly skilled and valued finance professional is freed to think, be creative, and to handle the higher cognitive and higher-valued work.
And even for the higher cognitive work, the AI Digital Assistant will augment and multiply value of the finance worker such that the professional's contribution to it's organization becomes even more valuable.
ABC Technology is in this journey to develop an ever more capable AI Digital Assistant.
8) What digital innovation in the tech space do you think will make its mark in 2020?
I think the Covid pandemic not only hasten the adoption of remote working, it also quickens the adoption of digital automation and artificial intelligence in the financial industry.
When people are not able to meet in person, much of the information has to be sent across digitally. If the information can be sent digitally, then why can't the information be processed? And when more information is processed, the need for artificial intelligence and NLP will also increase.
9) How do you pace up with the rapidly developing tech world?
I have a natural passion for technology and people So I read a lot of technology information from the internet and I gather a lot of insights on the tech world from conversations when I meet people.
10) What book are you currently reading?
The Bible is one book that I read daily over the years. It is my go-to MBA to receive wisdom on how to run the business and deal with challenges.
The internet has enabled a lot of information. But business leaders still need to have the wisdom and discernment to make decisions.
The Bible is a very rich source of wisdom on handling people, managing your own self and to discern business priorities.
11) What is that one quote that you swear by?
Do everything with reliability, discipline, honesty and integrity.
This is how I have upheld myself in doing my past and current work. This is also how I would drive my teams to perform. And this is also how I expect my teams to deliver to their customers, partners and internal stakeholders.
12) We have heard that you have a very joyful work culture, so can you share with us some of the fun pictures of your workplace?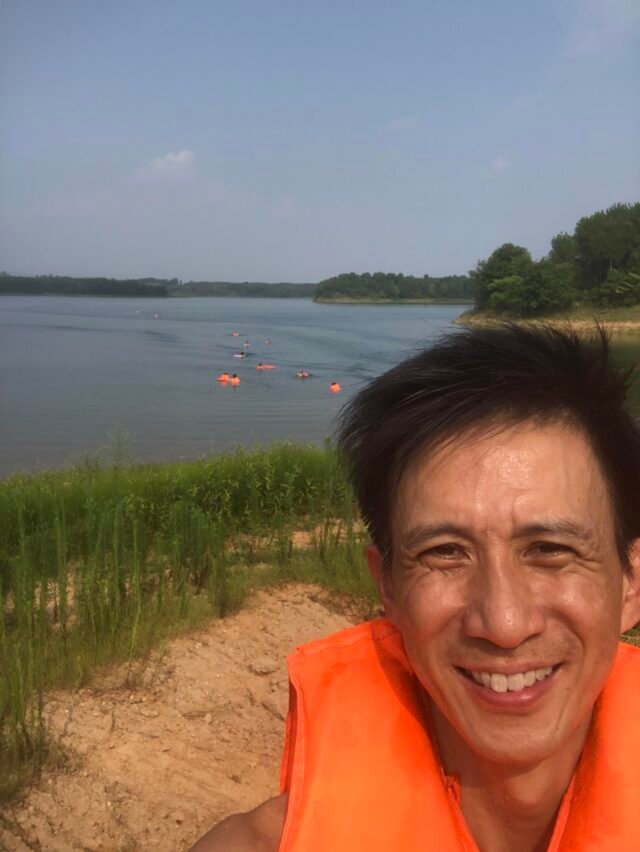 ABC Technology is a startup and we are known for it's innovativeness and cohesive team work.
On one of our senior management offsite meetings, all the senior management including the CEO and myself, we swam into the middle of a huge 100-metre deep lake. That exercise really deepened the trust and bonding amongst the heads of our business units.


The 250-strong AI software developers at ABC Technology worked very hard to design and deliver innovative and patent-worth AI software. It is not uncommon for our developers to work late into the night and over the weekends.


ABC Technology participated in the world's largest fintech exhibition in Singapore, the Singapore Fintech Festival. Our people hard at work receiving numerous enquiries from interested visitors to our booth.


We work hard, but we also take time to bond together.

– The CEO and Founder of ABC Technology, Mason Yang, taking a hike with me in Singapore.
– The CEO and I meeting part of our Singapore team at a Russian restaurant in Singapore.
– Hanging loose and chilling with the other business unit heads at ABC Technology over street food.
– The biggest table I have even sat at. Having lunch after an internal company meeting.
For more such Updates Log on to https://fintecbuzz.com/ Follow us on Google News Fintech News

FTB News Desk