Whether you've heard of fintech or not, it's already changing your life. Have you ever "Venmoed" someone? Do you think of investing in Bitcoin even though you can't quite explain what it is? If you've deposited a check using your iPhone, that's fintech. And if you've gone to a bank branch and discovered it has been closed and shuttered for good, odds are that's because of fintech too.
The Money Hackers: How a Group of Misfits Took on Wall Street and Changed Finance Forever by Daniel P. Simon is the dramatic story of fintech's major players and explores how the disruptions they created are transforming even money itself. As a financial communications expert who has advised some of the biggest brands, Simon has had a front row seat for the fintech revolution since its inception, watching the rise of many fintech companies and the leaders initiating the movement. The Money Hackers chronicles how fintech began and where it is likely taking us, and even offers some "inside secrets" on the industry. Entertaining and informative, these stories are filled with fascinating and rogue characters including Iqram Magdon-Ismai and Andrew Kortina (founders of Venmo), Adam Dell (founder of OpenTable and brother of Michael Dell), and Jon Stein (founder of robo-advisor, Betterment).
"We're experiencing a major shift in the way we interact with money because of fintech," says Simon. "Consumers everywhere are using financial technology that is seamlessly integrated into their lives – they don't even think about it. But the story of this incredible fintech revolution can't be told without looking at the unlikely visionaries who pursed their ideas in spite of challenges and rejection. At a time when banks pulled away from innovation, these entrepreneurs each focused on one piece of the banking ecosystem to develop technologies that are already changing the way we live."
The Money Hackers spotlights some of fintech's most powerful disruptors – a ragtag collection of financial outsiders and savants – and uses their incredible stories to explain not just how the technology works, but how the Silicon Valley thinking behind the technology, ideas like friction, hedonic adaptation, democratization, and disintermediation, is having a drastic effect on the entire banking and finance industry. While other books have provided information about traditional financial leaders, few, if any, have discussed the unique role that technology is playing in our financial lives or the leaders of the new financial revolution.
Turn to The Money Hackers to:
Spot the opportunities the next wave of fintech disruptions will bring.
Understand the critical pain points that fintech is resolving, such as cryptocurrency, robo-advisors, peer-to-peer lending, banking the unbanked, and national and international money transfers.
Learn about some of the larger-than-life characters behind the fintech movement.
"Change has begun," adds Simon. "How fast it will happen? Who will be the next leaders? Will Amazon be the biggest bank in the world? We'll just have to wait and see how these stories unfold."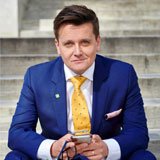 FTB Guest Features