The Internet is predominantly composed of open-source projects and has been since its inception. Over time, many of these projects have become foundational pieces upon which all future innovation is built. And while fortunes have been made from it, open-source is mainly created and maintained without compensation. Modern technology has been stunted by relying on the smallest percentage of the world's developers to choose between a salary or keeping the internet running. Using a decentralized blockchain to secure the open source supply chain also offers an opportunity for fairly remunerating open source developers based on their contributions to the entire ecosystem.
Although Web 2.0 accrued fortunes on the backs of free labor by unpaid open source volunteers, web3 has the power to change this. Open-source package maintainers could publish their releases to a decentralized registry powered by a Byzantine fault-tolerant blockchain with a host of storage options to eliminate single sources of failure and provide immutable releases. This would allow communities to govern their regions of the open-source ecosystem, independent of external agendas. The package manager is uniquely placed in the developer tool stack—it provides universal interoperability— and thus can enable automated and precise value distribution based on actual real-world usage.
Token economies are incredibly efficient because they distribute value proportional to contribution. They also inherently weed out fraudulent contributions.
A vibrant token economy values the most useful contributions that sustain communities within the tokenized economies.
By providing a trustless framework that automates token distribution to the most valuable contributions and rewarding the open-source devs who keep these contributions relevant, the open-source community can be protected from harmful assaults on its composition.
On-chain governance would create an ecosystem where all token holders can suggest and vote on changes to critical parameters weighted by token ownership and reputation. These parameters could include inflation, transaction fees, staking rewards, steeping rewards, or optimum steeping ratio. A reputation system and an immutable decentralized registry designed to distribute value to developers based on their contribution to the ecosystem's utility and health must be coupled with community-led accountability and validation via third-party community reviewers.
Corporate tech companies benefit from open source developers' contributions, but the so-called "supply chain," the many programs and packages that run programs that store customer data or interact with user OS, pose security risks. Without properly updating these programs, hackers easily find vulnerabilities and exploit these systems. While there are currently philanthropic programs that attempt to address this situation, they, too, are vulnerable to sustainability issues.
Decentralization via blockchain technologies also offers tangible benefits to ecosystem security, with every layer of apps and dapps signed and verified on-chain. A decentralized, immutable registry augmented by a reputation system and supported by economic incentives designed to expose bad actors and reward good actors is a reliable path forward that works for both Web2 and Web3. This decentralized, immutable registry can provide security and stability and prevent malevolent intent, providing the guarantees developer communities have sought. In short, a community that makes and updates new tech tools already can be rewarded for their efforts, and participants looking to game the ecosystem for personal gain will be excluded because fraudulence doesn't add value to the ecosystem.
By introducing new paradigms that allow open source compensation without requiring direct payment, the open-source software development community can utilize the fundamental value proposition of decentralized token economies Ultimately, open-source is a labor of love hindered by a lack of meaningful economic incentives. The blockchain ecosystem can truly empower open-source developers to run their communities while also being financially compensated as they create the tools that build the internet and empower the world.
For more such Updates Log on to https://fintecbuzz.com/ Follow us on Google News Fintech News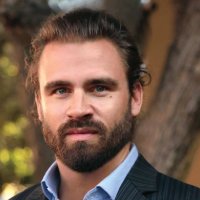 Timothy Lewis is the Co-Founder and CSO of tea, a new company building an open-source software platform on the blockchain. Open-source developers interested in contributing code or verifying contributed code can register with tea's authentication tool and receive rewards once verified as open-source contributors.
Timothy Lewis