Michael Parlotto joined InComm in 2004 and has served the company in many capacities since then, including international expansion, business development, and sales and account management. He has also leveraged his experience with startups to champion many firsts in prepaid digital content, such as the acquisition of digital gift card provider Giftango, now InComm Digital Solutions. As Executive Vice President, Mr Parlotto leads various product teams – including gift cards, digital content, wireless and healthcare – while overseeing corporate and event marketing as well as InComm Digital Solutions. Prior to InComm, Mr Parlotto worked with Virgin Mobile USA, Cingular Wireless and BellSouth Mobility.
1. Tell us about your role at InComm?
a. My name is Michael Parlotto, and I serve as Vice President of Emerging Technologies at InComm.
b. I have been with InComm for almost 16 years, and I've served in many roles during that time. People typically call me a "smokejumper," a reference to the way I jump into challenges across the company. I often get called in to help when we need a solution that falls outside the realm of "business as usual." I've been heavily involved in our concentrated innovation efforts for several years, and for the last 13 months I've been leading the build-out of InComm's just-launched innovation hub, Go Studio, which is based in our Atlanta headquarters.
2. Can you tell us about your journey into this market?
a. Before InComm, I worked in several different industries, each of which contributed to my current role focusing on innovation. I worked for several years in retail before moving into television at the Golf Channel. From there I transitioned to an advertising agency working on graphic design, which turned into an opportunity to work with e-commerce in the late 90s where I led the build out of Ron Jon Surf Shop's redesigned site. That experience led me to a technology startup, which I eventually left when Brooks Smith, the CEO of InComm, asked me to come run his company's web development team.
3. How do you think technology is developing the Finance Sector?
a. Traditional finance organizations, such as banks, were built on enterprise-level, large-scale systems that did not leave room for the quick implementation of innovations. That has changed over the last ten years, as a growing number of FinTech companies have tapped into these large systems and plugged in services through API connections that provide new and innovative customer experiences for the end-user. Traditional banks and finance firms are having to transition and adopt modes of operations that are more in line with startups in order to keep pace. A few banks are doing particularly well with the adoption of financial technology, particularly with the offering of mobile wallet services.
4. How has the integration of technology eased methods of payments?
a. Financial technology provides consumers with more options to pay for products and services, but some options have not yet fully matured. While services such as mobile wallets continue to grow, the use of mobile payments in retail overall is still inconsistent in the U.S., and requires carrying alternate forms of payment. That may change with time as merchants and the wallets continue to enhance their payment transaction processes so that consumers can have a consistent shopping experience across different store locations. Additionally as alternative payment solutions using barcodes penetrate the US market, like the ones InComm offers, the consumer friction should diminish as well.
5. How do you define your financial tools?
a. I research new technology with a focus on ways InComm could adopt the technology to solve unique financial challenges that our clients' customers are facing. Three examples of recent technologies we've commercialized for our suite of fintech products include tokenization, wearables integrations and tap-to-reload.
b. Last year, InComm launched near-field communication (NFC) capabilities that enable our retailer partners to provide tap-to-reload options to consumers using MyVanilla prepaid cards on a mobile wallet. This launch coincided with an integration that enabled MyVanilla cardholders to pay through Fitbit and Garmin wearable devices.
c. Tokenization ensures payment transactions for mobile wallets and tap-to-reload options remain secure. A cardholder's account information is never directly stored on a wearable device; instead, device-specific tokens are generated to process transactions without exposing card numbers.
6. Can you explain how your partnership with American Express benefits your existing customers?
a. InComm's partnership with American Express enables us to deliver our retailer partners and their customers multiple best-in-class prepaid and gift card products. This includes a state-of-the-art reload platform that supports Bluebird, an online checking account alternative, and Serve, a prepaid debit account with online account access.
7. What features of your payment platforms differentiate them in the market?
a. One of the key benefits that InComm platforms provide is a streamlined approach to payments. Through one interface, InComm can provide merchants with a wide array of products and services, many of which are outside of the standard prepaid transaction processing for which we are known. For example, our merchant partners can process in-lane cash payments for bill providers at their point of sale, all through the same system that they already use in partnership with InComm.
8. What advice would you like to give to Startups?
a.
It is critical for a startup to have a diverse team of people with different perspectives.
Take, for example, our team at Go Studio: I come from retail/e-commerce, but others on the team have backgrounds in marketing or user interface, and we're calling for perspectives and ideas from employees across the organization. We want our solutions to be as inclusive as possible.
b. Bringing in these diverse viewpoints can ensure the solutions you create are viable and will actually solve challenges that merchants and consumers face on a regular basis.
9. Which Startup technology has grabbed your attention?
a. Personally, smartdust has really captivated me. This is a system of microelectromechanical systems with miniature sensors that are autonomously powered and able to detect things like light, vibrations, temperature, magnetism, or chemicals. They're interconnectable and can collect, store and process data and communicate information wirelessly. This versatility gives them potential for applications in areas as diverse as agriculture, machinery, military and even neuroscience.
b. Something we see as having more immediate business application for InComm is augmented reality, an interactive experience in which detailed information can be overlaid on real-world objects and environments, in real time.
10. How do you prepare for a Technology-centric world?
a. I always start by identifying use cases and challenges that need to be solved. Once we understand the problem, Then we can look at how the latest technology may be able to help improve or resolve that challenge. This process is exactly what Go Studio is doing – we identify challenges facing real consumers (and understand how and why an innovation would be a benefit), then we determine how we can use technology to solve the challenge.
b. Merchants should stay on top of the latest technology, but that doesn't mean every decision should be based on the technology itself. Focus on the challenge or problem to ensure time, money, and resources are not wasted on developing a product or service that isn't helpful to your organization or customers.
11. Can you tell us about your team and how it supports you?
a. Go Studio is staffed by a highly collaborative team that works quickly to research emerging technology and develop proofs-of-concept. It's like a startup within a corporation. We're running lean with a team of six: there's myself, our studio manager, our user interface and experience expert, our design thinking expert, and two full-stack architects skilled in development for IP solutions.
b. In addition, we will pull from resources throughout InComm to fuel our innovation. We refer to this as our "hub-and-spoke" model. Go Studio serves as the hub, and other areas of the company are the spokes from which we'll leverage different perspectives. For example, our Trail Blazer program is where we'll pull resources from among our employees, giving them a break from their day-to-day for a period of time to work in the Studio. They'll gain new experiences working on projects in a fast-paced environment, and when their mission is over, they'll return to their regular role with new skills. It's our way of building a culture of innovation throughout InComm and maximizing the utilization of the talents and perspectives we have available in-house.
12. What are the major developments you are planning, in recent time?
a. For the last 13 months, we have focused on creating Go Studio, which officially launched in February. In the weeks and months to come, our team will research applications of new technology, develop proofs of concept, and hand them off to product teams to commercialize.
13. Which books are you reading these days?
a. A few books that are on my current reading list include: "Life is a Wheel" by Bruce Webber; "Robotics" by Neal Wilkins; and "Road to Valor" by Ally and Andres McConnon.
14. We have heard that you have a very joyful work culture, we won't mind having a look at some of the pictures?
a. Yes, We've designed the studio to be dynamic, inviting and engaging to match our fast-paced, inquisitive approach.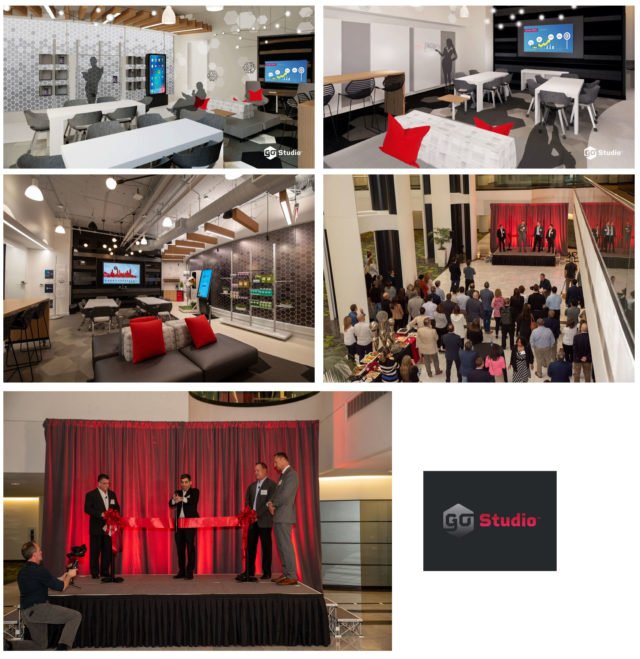 15. Can you give us a glance of the applications you use on your phone?
a. I mostly install apps to test them and get an idea of how the technology functions. In addition to sports and healthy living apps, I have a few wearable apps like Garmin, along with a few virtual assistant and home automation apps. I also have multiple mobile wallet apps installed, to make sure I'm staying current on how service providers are enhancing them.

FTB News Desk