We're living in an era where payment can be received digitally within an instant. Many platforms, such as PayPal, allows for quick and painless money transfers. Sending your customer's invoices is key to getting paid for the products and services that you provide. The days of hard copy invoices are slowly dwindling away and with advances in technology, some online payment platforms also offer invoice generator that gives their users the ability to create and send invoices.
PayPal is a popular service brand that helps businesses and customers easily make electronic payments and transfer money securely. But did you know that it also offers features to create invoices & send it to your customers? Invoicing with PayPal, in particular, is a valuable tool for professionals and companies. It also allows freelancers to request monthly payments from their customers. The PayPal invoicing feature comes as standard with all PayPal business accounts allows merchants to create and customize professional invoices that their customers can pay with the click of a couple of buttons.
Let's have a look at the unique features offered by Paypal invoicing,
Every business is different. It is essential that you're able to customize your invoices to your needs. PayPal lets you include your logo, business info, and customize which fields to involve on your invoice template. Add notes and terms, and select which items you'd prefer to appear on your invoice. You can even define what currency you're using for each payment.
Create your invoice templet
PayPal lets you develop templates for your invoices, so you don't need to start from scratch each time you bill a customer. You can also save frequently-utilized line items and contacts for easy entry. Attach files, like quotes or contracts, and even add a memo to yourself that the client won't see.
Invoicing with Paypal offers an extraordinary reminder feature. Sometimes customers might simply forget that they owe you some amount. So, PayPal enables you to send out invoice reminders to customers who have unpaid bills–you can even send reminders as a bunch of action to any outstanding invoices. Personalize your reminder and send a copy of the email to yourself as well.
It's nice to know that your invoicing program has got your back in case you're forgetful. With PayPal, you can schedule your invoices to go out on a specific day. If you would like to bill your customers on a recurring schedule automatically, you will have to pay $10/month (in addition to any monthly fee if you are using PayPal Pro). fintech news
PayPal allows you to accept and record partial payments, since customers may not pay all at once. At the top of your invoicing dashboard, you can see the history of every invoice, complete with any payments received. Monitor the status of each invoice in your Manage Invoices screen, and filter your list to see only scheduled, paid, unpaid, or draft invoices.  If you have a PayPal Business Account, you can also monitor payments utilizing the PayPal Business App.
One of the key features that PayPal offers is the ability to send up to 1000 of the same invoices all at once–talk about a time saver! Upload a CSV for a bunch of invoice files of up to 1000 recipients or manually enter email addresses to send up to 100 invoices. If you don't have an email address for a client, just enter a name, and you can print it out and deliver it in person!
With PayPal, you don't have to pay anything to generate and send your invoices. There are no setup fees and no monthly subscriptions. But you do pay when your customer pays you. It's 2.9% + $0.30 per transaction.
If you do choose to take advantage of PayPal's business account for the full suite of integration with Invoicing, there are additional standard fees.
How can customers pay for an invoice?
Once a merchant creates an invoice in their PayPal account, they will see two options:
The first option is generally the preferred option and it permits PayPal to send the invoice directly to the customer. The notification sent to the client will appear in their email account and in their PayPal dashboard.
The other option involves PayPal supplying the merchant with a special link that they can share with their customers via a messaging platform of their choosing. The customers can then click on the link and pay for the invoice that way.
Payment and Invoicing with Paypal has become very easy for businesses as well as customers. All PayPal invoices can be paid via credit or debit card, PayPal funds or in some circumstances PayPal credit. Once the customer makes the invoice payment, the merchant will generally receive the funds in a couple of minutes. The invoice will also be marked as 'Paid' within the manage invoice menu.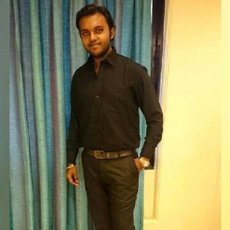 Aashish is currently a Content writer at FintecBuzz. He is an enthusiastic and avid writer. His key region of interests include covering different aspects of technology and mixing them up with layman ideologies to pan out an interesting take. His main area of interests range from medical journals to marketing arena.
Ashish Y.