According to a recent survey, the vast majority of finance and accounting executives – 89% – see enterprise finance as an area ripe for a technological makeover – in other words, they believe that data-driven finance is the future. To make this a reality, nearly half are planning to double down on digital transformation efforts — namely automation – in an effort to alleviate much of the workload burdening finance teams, increasing the value of their time in turn.
Automation can be the lifeline, finance teams desperately need. It can do more than help overworked financial teams improve their performance – automation can transform their roles from internal accounting and data managers to strategic advisors, contributing valuable, bias-free insights to promote business growth and success.
Trivial Paperwork
Of late, many enterprises have been raising travel and other budgets and increasing employee workplace benefits that were put on hold during the pandemic. This means finance teams are now spending more time chasing and analyzing related payments, utilizing the time that might be better spent tackling critical business tasks.
Keep in mind, the simplest transaction often involves numerous variables that are tough for a human employee to assess in a timely manner. For example, if an employee ate at a hotel restaurant, should it be classified as a restaurant expense or a hotel expense? If they ordered two alcoholic beverages during a business meeting at that hotel, would that expense be considered acceptable, or should it be flagged as unwarranted or suspicious?
Automation can easily break down such receipts by identifying and classifying the type of expenses in question, instantly giving finance teams insight into how much the company is spending in certain areas in order to inform any necessary reallocation of funds in real-time.
Automatic Accuracy
Performing data entry and analysis manually is risky – human errors are often made that impede accurate financial reporting. Automating these tasks can slash error rates, thereby limiting inconsistencies across the enterprise and strengthening data integrity in the process – the key to effectively leveraging financial insights.
Even when errors do occur, automation can easily remediate a specific mistake, thanks to Machine Learning's capacity to learn how to correct itself.
With an arsenal of automated tools at their fingertips, finance teams can have a deeper understanding of their company's financial position – automation's reliability and efficiency make it an integral element for enterprises looking to scale. Businesses that have successfully automated standard financial functions can transcend beyond traditional metrics to analyze more focused and forward-looking KPIs, to the benefit of the entire organization.
Peace of Mind
Beyond the time savings, accurate business insights, and corporate visibility, automated solutions also pave the way for financial compliance in the face of audits – companies need to keep all essential records in the event of an unexpected audit or suspicion of non-compliant behavior.
Governments are cracking down on non-compliance and enterprises need to be properly prepared. Recently, over 800,000 UK businesses faced non-compliance penalties after failing to file their digital value-added tax (VAT) reports.
Financial compliance improves business reputation, which gives stakeholders and partners peace of mind regarding an organization's financial stability and reliability.
The potential for automation in establishing data integrity is immense as it ensures companies can achieve full compliance in the face of increased oversight, averting high regulatory fines while gaining valuable tax reclaim.
Making The Most of What You Have
Digital transformation is accelerating in nearly every industry these days, and the finance sector is no exception. That is why it is essential for modern-day businesses to embrace technology in order to elevate their financial operations, especially when that technology injects a much-needed dose of value into the time your teams have to work within.
Automating a financial team's everyday workload will provide them the gift of time and quality information they need to focus on high-value activities that effectively grow your company. Time is on your side – you just have to make the most of it.

Before his role at Blue dot, David held the position of CTO and VP of R&D at iSkoot Technologies Inc. David was the co-founder of Happy Cloud, LLC, a researcher at Mobileye, and VP of Technology at Qualcomm's Innovation Centre, where he developed algorithms to analyze human contextual behavior in the multi-sensor IoT environment. David's Ph.D. studies are in neural computation from the Hebrew University, specializing in Machine Learning and Artificial Intelligence.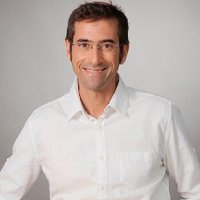 David Guedalia