Investment management software, also known as a portfolio management system, offers a programmed application to build, track, manage, and guide investors before making investment decisions. Similarly, a portfolio management system provides asset allocation, financial planning, and financial advising for clients. Investment management is crucial for any individual for his future returns, retirement plans, financial stability, and asset creation. This blog will help you understand the benefits and top trending portfolio management software.
Benefits of Investment Software
Acknowledging the importance of portfolio management software will give you an extra edge in your investment planning. The software assists in decision-making while purchasing or selling bonds, stocks, fixed assets, and cryptos. It also helps to manage dividends, profits, capital gains, and price data. Furthermore, this software allows you to analyze future investment risks before investing.
Moreover, investment management software helps investors to achieve financial goals & objectives. Customized investment plans offer each investor diverse investment options.
The software is a one-stop solution for portfolio building, tracking, and managing wealth. Investment managing platforms assist in assessing current economic conditions, stock market updates, and potential prospects for building assets with a decent return.
Portfolio management software also aids in tax compliance, cybersecurity, and basic budgeting. In addition, these software solutions give ease in handling financial documentation. For example, any layman can also easily invest their money safely with a less complex documentation process. Therefore, one can manage wealth by subscribing to investment managing software. Get straight to the list of top investment managing software!
Investment managing platforms assist in assessing current economic conditions, stock market updates, and potential prospects for building assets with a decent return.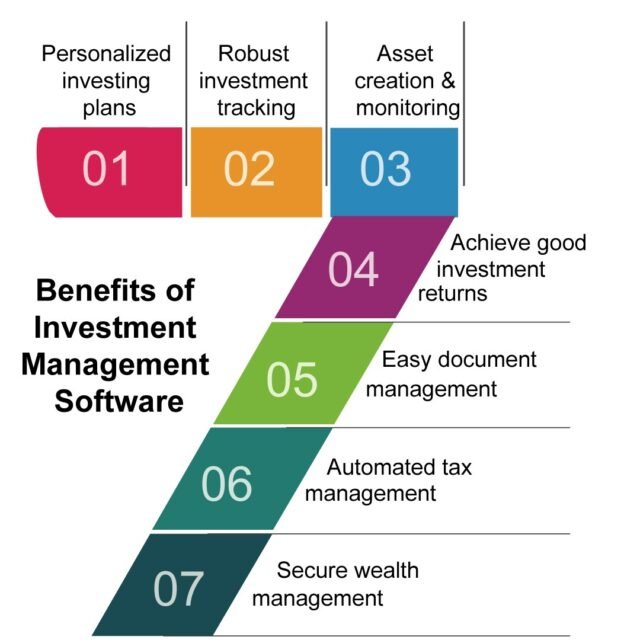 List of Top 5 Investment Management Software
Build an intelligent, tax-efficient, diversified portfolio with minimum cost as compared to traditional advisors
Personalized portfolio management
One-stop solution to see all investment
Hassle-free asset management
Personalized investment advising
Charges fewer fees compared to industry fees
2. Mint
New investors can opt for a simple, free tool for managing their finances, then investment and portfolio tracking software is suitable.
Keeps track of income and expenses
Manages all accounts
Manages all bill payments
Safe and secure tool
Free credit score generation
A smart financial tool for everyone offers a holistic wealth management advising facility.
Analyze the cashflow of individuals
Helps in retirement planning
Investment tracking facility
Enables review of asset allocation
Financial advising by experts
4. Ziggma
This software provides institutional investors to get maximized returns with better efficiency and productivity.
Wealth building platform
Smart tools to optimize your investment
Stock screening
Portfolio tracking
Wealth solutions with smart alerts
5. Quicken
The software offers diverse solutions to manage all finances and enables one to make better financial decisions.
Manages your spending and savings
Customized budgeting plans
Easy bill management
Track your investments
Property management solutions
Summary
Investment management software is a must to track your wealth, get good returns, plan retirement, and for better asset allocations. There are multiple portfolio managing systems available in the market, but one must evaluate one's requirements to get the best. Financial advising is necessary for choosing the right investment management software. However, an individual can evaluate the best suitable software before subscribing. Whichever software you select, you can easily manage your investment to get decent returns. So it is worth signing up for such a portfolio-managing system in the longer term.
For more such Updates Log on to https://fintecbuzz.com/ Follow us on Google News Fintech News