Jess from Beeline explains why it is important to simplify home loans and refinancing and how Fintech plays a vital role in skipping the financial hassles!
Jess Kennedy is the Co-founder, General Counsel & CCO at Beeline. Beeline is the only home loan you can get from your sofa. The shortest possible path to a new home or an effortless refi. Jess works with a talented, passionate group of people to build an unprecedented product, brand and user experience - ideally transforming the usual experience into something to be enjoyed not endured.
1. Can you tell us about your role at Beeline?
As one of Beeline's co-founders and CCO, I'm a wearer of many hats, maybe even our resident night owl. Like my co-founders and others at Beeline, I do whatever is needed – which may not always land squarely in the legal world. Sure, I advise on regulatory requirements, review contracts and all the typical lawyer stuff, but I also advise on Beeline's strategic direction, product mix, and advertising in addition to many other things. It's been really fun working with our product design and brand teams to create a kick ass user-experience and identity what I just don't see anywhere else. In addition to that cool stuff, I also take on some majorly unremarkable work, like ordering supplies and fixing the printer!
2. Can you tell us about your journey into this industry?
Our team has a wealth of knowledge and background in consumer fintech, both the investment banking and real estate industries. I've been practicing real estate law for more than a decade now and specialize in compliance with experience in both the private and public sectors.
While legal and regulatory compliance are really important in this industry, the real fun comes in combining all that experience into a revolutionary experience for consumers – that's the stuff that gets my heart racing.
3. How do you think technology is upgrading the financial sector?
Technology is allowing the financial sector to move faster than ever before, but it's not often enough we see it well applied and augmented with personal touch points in a way that works best for consumers. We no longer have to drag our feet to the bank in-person with all of our important documents in-hand. Instead, we're able to accomplish so much more and pass the savings onto consumers thanks to artificial intelligence, like our own.
4. How has the increase in digital transformation empowered home loans?
Digitally transforming the homebuying industry with artificial intelligence will completely revolutionize the way most consumers buy homes, but it still has a long way to go. By speeding up the process and cutting out the long and annoying back-and-forth, digital solutions allow tools/lenders (like our own) to give consumers accurate and well-reviewed purchase-ready approvals in 15 minutes, rather than 3-5 "business days."
5. Why do you think there was a need to have a dedicated platform for refi?
We built refinancing directly into our platform because it's a key part of owning a home! Refinancing can take just as long as buying one, so simplifying and demystifying that process is also a huge benefit to consumers, and seeing your rate and your outcome as soon as possible helps you to know exactly where you stand.
6. How does your machine learning platform transform flakey pre-approvals?
Beeline skips all that hassle and uncertainty. We link directly to your actual bank, pay and tax information, and then use AI to retrieve, interpret and verify your actual numbers to give you a purchase-ready approval within 15 minutes, instead of using unverified and estimated answers. This means our purchase-ready approvals we offer are way more reliable and accurate, and delivered in a much shorter time than traditional lenders.
Not all pre-approvals or pre-quals (as they are sometimes called) are created equal. Most lenders need you to complete a long form, submit a bunch of documents, answer a lot of questions and then take a couple days (at least) to review your information before getting you a pre-approval. If you get a "pre-qual," you can get that in about three minutes, but it isn't worth the paper it's printed on since the lender has not yet verified any of the information you gave them to get that pre-qual.
They don't know much about you and what they do know is only estimated anyway. For example, you won't value what you receive very much, so you'll type in some estimated FICO score and income and as a result, the outcome of your "pre-qual" you see probably isn't going to be your actual result anyway. Often it's just a way lenders generate 'leads' so they can then ring your phone incessantly from some boiler room and try to turn you into a sale.
7. Being a lender, how is that you expand the trajectory of your product?
The loan is just a conduit or tool for homebuyers to get into their homes in a fast, easy and affordable way.
So it's not all about the loan for starters. Beeline is the lender but it helps someone navigate the entire journey, replacing pain points with cool solutions like remotely and digitally resolving issues on their Beeline tracker, right up to getting the keys or closing on the refi.
8. What features of your refinancing solution differentiates it in the market?
Just like our home loans, our refinancing solution is radically different. It's faster and more certain than others because someone can effortlessly link directly with their bank, pay and tax info—so we can capture and interpret the real numbers. This way they'll know their real rate and refi outcome. It's safe to say that while it may seem like something a little new to start with, once people feel ok doing it this way, they won't go back to old school approvals.
9. What are your predictions about the future of home loans?
We anticipate that consumers will continue to expect more from these staid financial industries. They already do expect more, but mostly they're disappointed, which is partly why we started Beeline. As the process continues to simplify thanks to artificial intelligence we think that buying and closing on a home will take less time and give consumers a break from the annoying follow-up calls from their bank. The quicker we can get customers into their homes enjoying their first night with a box of greasy pizza, the better.
10. What advice would you like to give to the technology Start Ups?
Those looking to build their own tech-driven businesses need to bring their passion and re-imagined tech into industries that have seen consumer pain points for decades. They'll need to understand how the technology improves the outcome while marrying up the human interaction piece, and not miss the point. It's ultimately a blend of the two and appreciating the technology itself, as cool as it is, is not the point. Our Beeline co-founders come from a variety of backgrounds, having done consumer fintech lending, real estate services and investment banking. Coming from a variety of backgrounds including consumer fintech lending, real estate services and investment banking, our co-founders have come together to accomplish a lot in 18 months.
11. How do you prepare for an AI-centric world?
We embrace it. AI and machine learning are a key enabler for Beeline's users having a totally different experience! We're excited to continue to see the industry use technology to transform complicated consumer processes (like buying a home). Rather than building a new product on a dated tech infrastructure, we built our technology from the ground up, so we can take full advantage of machine learning and artificial intelligence and respond to user feedback through new product iterations.
12. What are the major developments you are planning, in recent time?
At Beeline we're continuing to launch new markets state-by-state. We initially launched Beeline in Washington, D.C., Florida, Maryland, Massachusetts, Rhode Island, Texas, and Virginia. We're also continuing to dedicate resources to make Beeline's onboarding journey even better so the user answers even fewer questions. Once approved, the Beeline tracker and their Loan Guide steer the user to close, and there are a lot of great ideas we are implementing now, so there's less work to do after someone has their approval. Plus, users can easily follow tasks for their loan in the tracker not via email or worse—fax. Does anyone born after 1990 even know what a fax is?
13. Can you tell us about your team and how it supports you?
We're a pretty lean crew for the standard of the product we've created, but we have been working our butts off. We're proud that we've done a lot with a little, but having that attitude continue will mean having a slimmer cost base than our legacy competitors, which allows us to pass savings and low rates onto our users. Another mistake we see from new-school tech players is doing a big funding raise and putting a $7,000 coffee machine in every room. We're not really into that stuff and voicing it publicly, like here means we have to live by it in future. So authenticity and culture without pretense matters. Beyond that, more operationally speaking Beeline's AI and proprietary technology doesn't need rooms full of people doing follow-up calls for loans and applications being verified and processed, because our tech does most of the work itself. However, we do have a team of Loan Guides to help guide homebuyers through every step of the journey. It doesn't matter how sexy the AI is without them, it doesn't happen, they are the heart and soul of the team and they're supportive, non-transactional people! We're not one of these startups saying we'll replace people with AI – we're going to blend it the right way and apply a cool alchemy of AI and brand and storytelling with the user experience.
14. We have heard that you have a very joyful work culture, so can you share with us some of the fun pictures of your workplace?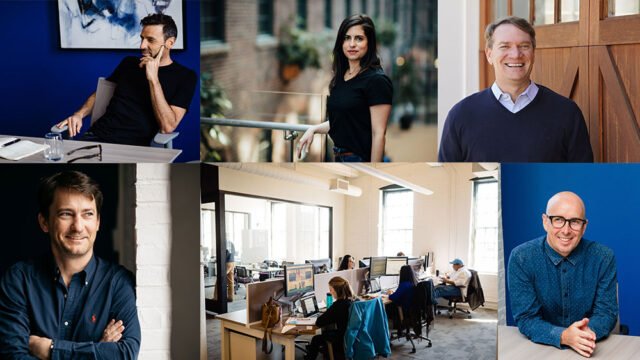 15. Can you give us a glance of the applications you use on your phone?
I love being in the know and life is hectic so my #1 app is my calendar app – boring I know, but if it's not on my calendar, it doesn't exist. For leisure, I always have Pandora and Spotify easily accessible. Since COVID, I haven't been able to go back to my yoga studio but have really loved the CorePower Yoga on-demand app. It's the closest thing I have found to being in the studio.