Elena Ionenko a well-known fintech leader and Co-Founder of TurnKey Lender puts light on the evolving phase of lending in the era of AI.

Elena is a FinTech entrepreneur with over twenty years of business development, sales, and management experience. In 2015 Elena founded TurnKey Lender. In just 5 years she and her team turned it from a promising startup into a global leader in Unified Lending Management solutions and services. Under Elena's leadership, the company has entered 50+ local markets, raised several funding rounds from some of the most authoritative FinTech investors, launched regional offices all over the globe, and won pretty much all the relevant FinTech and AI awards in the industry. Before TurnKey Lender Elena worked on several successful products in Silicon Valley and founded two successful companies where at different times she headed up finances, sales, and marketing. She often shares her expertise at industry events, webinars, or in media.
1. Tell us about your role at Turnkey Lender?
I am the Co-Founder of TurnKey Lender which we launched in 2015 to make e-lending as easy or easier than e-commerce. At this point in time, I am also responsible for the responsibilities as Head of Business Development for the company. This includes everything to drive the company forward and cooperating with all departments to ensure we deliver the highest quality products possible to our clients in every corner of the world.
2. Can you tell us about your journey into this market?
In the early days of FinTech, I saw that this industry was going to be one of the most powerful parts of the digital economy of the future. That's why I've been working with FinTech products for most of my career. Additionally, I have over twenty years of business development, sales, and management experience behind my back. After receiving my MBA, I worked on several successful products in Silicon Valley and founded two companies where, at different times, I headed up finance, sales, and marketing teams. I am an active member of the global FinTech community, speaking at events, sharing insights, and recently becoming a member of the esteemed Forbes Technology Council.
3. How do you think technology is upgrading the financial sector?
Transparency, affordability, accessibility, inclusion, and fairness — that's what FinTech brings to the table.
The financial sector is all about innovative technology and digital transformation. At TurnKey Lender, R&D is one of the areas we invest the most in. Because as soon as a FinTech company stops innovating, it gets outperformed.
4. How has the integration of AI enhanced lending solutions?
Since the very beginning my co-founder Dmitry Voronenko and I understood that the only way to transform lending from the rigid, slow, and error-ridden process that it used to be, was to apply artificial intelligence and big data in a meaningful way. We have a very strong team of engineers and a dedicated risk department who analyze enormous amounts of data to create intelligent self-learning algorithms, scoring models, and decision rules powered by deep neural networks and machine learning.
AI plays a cornerstone role in making our solutions successful. We're proud to say that our software isn't just the most usable, flexible, and scalable on the market, but also the most intelligent.
5. How do you define your Auto Financing Solution?
TurnKey Lender offers intelligent software that automates every step of the auto financing process for dealerships. The System covers different credit product types like leasing or rental out-of-the-box and provides a flexible credit product builder for fully custom product creation without any involvement from our team. The solution presents a single source of truth and a unified system that includes all the functionality one needs for running an efficient and profitable auto financing operation that doesn't need any third-party involvement from a bank or other financial institutions.
6. Can you explain, how does your Unified Lending Management Software empower businesses?
Traditional lenders like banks or credit unions, alternative lenders, can offer fully digital, streamlined, personalized, and secure credit products on their terms, without any involvement from the middlemen or the need to use separate incompatible solutions.  Moreover, with our user-friendly AI powered and fully automated technology even businesses who know nothing about lending and credit risk can safely offer convenient buy now – pay later and other financing options to their customers, selling more of their goods and services. We believe that embedded lending will be soon part of any customer relationship.
7. What features of your risk management solution differentiates it in the market?
Some of the features that make us stand out include but aren't limited to:
Unmatched configurability and intelligence of the AI-driven Decision Engine.
End-to-end lending processes automation thanks to a flexible modular architecture.
The system processes 460+ loan applications a second without losses in quality.
Preconfigured integrations with 75 relevant technology providers.
Machine learning and deep neural networks are applied to achieve industry-leading quality and accuracy of scoring models.
8. What advice would you like to give to the technology Startups?
When you see a market opportunity, go ahead and try to launch a stable and secure MVP. Start selling it as soon as possible. After that, your clients have to become your key focus – listen to their pains, analyze their user journeys, improve your solution, and then scale the success Twitter
9. What is the Digital innovation in financial technology according to you that will mark 2020?
At TurnKey Lender we see a distinct trend towards digitalization of lending and implementation of embedded financing. The same way that the 2008 crisis provided the start for the all-consuming e-commerce revolution, we believe that 2020 will force businesses to embrace digital lending technology.
10. How do you prepare for an AI-Centric world?
Since its founding day, TurnKey Lender technology has focused on AI and big data. This was the only way to automate the crediting process to the extent that we do and with the user-friendliness that we offer.
11. What are the major developments you are planning, in recent time?
We were preparing for the upcoming economic crisis for a long time and in retrospect, we were ready when it happened. TurnKey Lender has rolled out major releases of our key products to address the changes and challenges of a post-Covid-19 economy.  In the upcoming months, we also have numerous new releases that will continue to move the lending industry forward.
12. Can you tell us about your team and how it supports you?
A leader is nothing without the right people to lead.
Thanks to our satellite offices in the US, Singapore, Ukraine, Belgium, Cambodia, and Malaysia, we are able to choose the best talent to deliver the best products and services for our clients. Thanks to that culture of cross-continental collaboration, we weren't shocked by the sudden necessity for remote work. I'm also proud of my team keeping up the pace throughout these challenging times in our world.
13. What movie inspires you the most?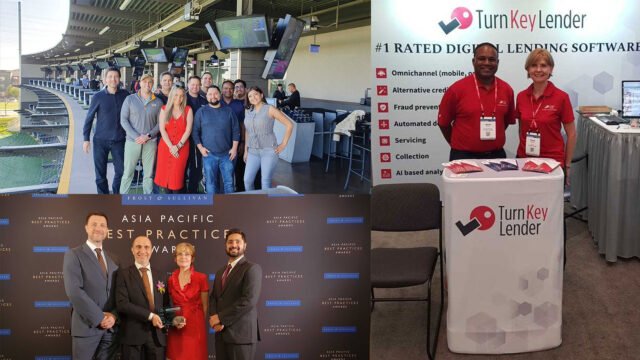 14. Can you give us a glance of the applications you use on your phone?
I try to limit my screen time, so I don't have many apps. I use a couple of messengers that allow me to stay connected with my family and business partners, WhatsApp, Telegram and Slack, as well as mobile banking apps and two book readers as these are the ones I use the most.
For more such Updates Log on to https://fintecbuzz.com/ Follow us on Google News Fintech News

FTB News Desk