Learn more about Sure, the insurtech platform that's changing the way people think about insurance, in this interview with Wayne Slavin, its CEO, and Co-Founder.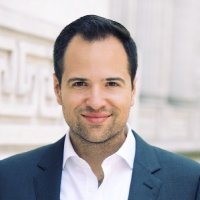 Wayne Slavin is the CEO and Co-Founder of Sure, a VC-backed insurtech startup that aims to simplify the process of purchasing insurance through its platform. Prior to Sure, he worked as the VP of Product Management at Tapingo, which was named TechCrunch's Most Innovative Company of 2013. Slavin has also been involved in various other past projects and companies, including NetStumbler, a consumer app that had over 1.5 billion downloads, the Barnes & Noble Nook eBook reader, Buddy Media (which is now part of Salesforce), and BackupRight, an enterprise SaaS company that he sold in 2012. Slavin has a Masters' Degree from Columbia University, and his extensive experience in product management and entrepreneurship has helped him build and grow successful companies throughout his career.
What led you to start Sure?
Sure's journey is not unlike the journeys of most other startups. One idea led to another idea, which in turn led to the creation of Sure. But it all began on an airplane. It was 2014 and I was mid-flight from San Francisco to Las Vegas when we suddenly experienced some pretty serious turbulence. Rationally, I know that flying is safer than driving, but I was still a little unnerved. As I was looking around at the other passengers, I could tell it was a really scary experience for them. It then dawned on me that there should be an easy way for someone to buy insurance on the spot. In this case, it was the idea of purchasing life insurance before boarding a flight.
So we built a proprietary app for people to purchase insurance quickly and frictionlessly, starting first with baggage insurance, flight insurance, and smartphone insurance, to name just a few. We then realized that the technology we developed was so powerful that the opportunity for Sure was so much bigger. Instead of selling insurance digitally ourselves, we could use our technology to help others sell insurance online.
Sure is now entirely focused on using our platform and APIs as a Software as a Service solution to power the digital insurance programs of large brands and carriers. Sure works with companies like Toyota, Mastercard, and Farmers Insurance to build and launch sophisticated embedded insurance products on our SaaS infrastructure. By combining our insurance expertise with our technology, we unlock the potential of digital insurance to increase revenue streams and accelerate market growth while revolutionizing the customer experience.
What challenge is Sure solving for customers?
Sure unlocks the potential of digital insurance. So what does that mean exactly? For us, it means that we are able to help our partners solve the complex problems of offering insurance – digitally. That means bringing the entire end-to-end journey of not only the application, rate, quote, and bind process, but also policy administration and claims into the digital age.
Simply put, we are enabling a carrier or a brand to meet their customer in their moment of need. Right time, right product offer. Our technology brings the ability to enable an insurance transaction, management, and claim into almost any customer journey. Wherever the customer is, we can meet their need.
So, for example, if a customer is in the middle of an auto purchase, we are able to make an auto insurance purchase happen right there with zero human intervention. Or if a customer experiences a covered event such as an accident, we make the claim process as frictionless as possible and reach a claim decision in 60 seconds.
In essence, we are helping to bring a centuries-old industry into the digital age and make the process of buying and managing insurance more enjoyable for consumers.
We understand insurance can be complex. Can you explain to us how Sure fits into such a complex industry and the role you play?
The use cases of our technology can vary and can be pretty specific to our individual partners. So for example, in the case of Farmers, we helped build Toggle Insurance from the ground up. That includes both the frontend consumer experience as well as the backend insurance infrastructure to launch a completely embedded insurance experience.
Sure's platform handles all of the digital workflows, from policy quotes and bind to policy administration. For Toggle, we started first with a single type of insurance and then expanded into the next soon after, and we are launching other insurance products soon.
Not to state the obvious, but the insurance industry isn't known for being digitally enabled. That's not to say there aren't exceptions. Some are better than others. But overall, legacy insurance carriers are not inherently innovative with technology. They just don't have the muscle. So that's where Sure comes in.
What makes Sure stand out from the competition?
Sure is unique in the sense that the majority of our business comes from working with carriers and brands to create digital experiences to purchase and manage complex insurance products. Things like auto insurance or homeowners insurance or business insurance. Other insurtechs are focused on the more niche, ancillary, micro-insurance types of products. Things like pet insurance or jewelry insurance, for example.
These niche insurance products are easy to technologically configure.  Sure is squarely focused on the complex, hard-to-configure insurance products,  yet once done, nets a radical difference for the entire value chain. We pride ourselves on taking on the complex, challenging problems in insurance. That's what gets us up in the morning.
Has insurance become more in demand given the economic headwinds?
Technology that powers efficiency in insurance has become more in demand without a doubt.  Economic headwinds also play a role. When economic pressures are upon us, the products in demand are the products that help consumers secure the peace-of-mind and economic uncertainties against loss. Mandatory insurance products such as auto, home, renters, and commercial business insurance are the products that rise to the top when the economy tightens.
What is it about the Sure that makes it unique in the embedded insurance space?
There is a lot of talk about "embedded" right now and the insurance industry is defining it in many ways. The truth is, embedded insurance has been around for a long time. We've seen it with car rental coverage offered at the rental counter. We've seen credit card insurance products at the time of issuance and even travel insurance at the point of sale. We've seen extended service contracts offered at in-store and online checkout.
So while embedded insurance has been around for a while, but without the advantage of data and technology. The market opportunity for embedded insurance is huge and continues to grow. Many larger insurance carriers have tried and failed to capture it the right way. That's where Sure comes in as the ideal partner. Aligning capabilities is the key to success when launching embedded experiences. Sure brings its technology and distribution to the table while the carriers bring their insurance products to the table.
How do you see the insurtech space evolving in 5-10 years?
I expect we are going to see some insurtech 1.0 companies fade away or find niche pockets of potential in things like cyber insurance. As we turn the page on the insurtech 1.0 era and enter the insurtech 2.0 era, I predict you will see modern tech platforms replacing many of the legacy platforms that are ubiquitous at the big incumbent insurance companies. The legacy tech platforms are too slow, too expensive, and not flexible enough to enable true digital insurance e-commerce.
Sure stands at the gate of a $100 billion+ market opportunity and is very well positioned to capture it. We are ready to fulfill our mission of empowering brands and carriers to distribute insurance products quickly and reach customers wherever they are on their journey.