Haipo Yang - CEO of Coin Ex and ViaBTC, was graduated from Northwestern Polytechnical University of China in 2012, majored in mathematics. After graduation, he worked as a developer at Tencent Weibo (China's Twitter) and then FUTU, a Tencent-invested Hong Kong stock exchange. YANG is one of the earliest adopters and investors of Bitcoin and has an in-depth understanding of blockchain technology. Yang began to be involved in Bitcoin in 2013. Between 2014 and 2015, Yang started his career in the cryptocurrency industry and led the R&D team at ZeusMiner, the former TOP3 Scrypt miner in the world. In April 2016, Yang committed himself to the development of ViaBTC Bitcoin pool and released the initial version after two months of extensive coding effort. That' when ViaBTC was officially launched and when the team started to expand. Fortunately, ViaBTC has received Bitmain's investment and support and has developed rapidly.
1. Tell us about your role in CoinEx and CoinEx Chain?
My name is Haipo Yang and I'm the Founder and CEO of CoinEx. I first launched ViaBTC pool in 2016, and then CoinEx in December 2017. In November last year, we also launched the Mainnet of CoinEx Chain, which is specially created for DEX. CoinEx is one of the few exchanges with a comprehensive blockchain ecological layout.
You are always welcome to talk to us about your suggestions or opinions on our Twitter.
2. Can you tell us about your journey into this market?
In 2011, I first learned about Bitcoin from an article – "Bitcoin: The Most Dangerous Open Source Project" Now, to me it seems that Bitcoin deserves this title.
After graduating from Northwestern Polytechnical University of China in 2012, I first worked as a developer at Tencent Weibo and then FUTU. In 2013, I began to invest in coryptocurrency. Between 2014 and 2015, I started my career in cryptocurrency industry and led the R&D team at ZeusMiner, the former Top3 Scrypt miner in the world. In April 2016, I committed myself to the development of ViaBTC mining pool and released the initial version after two months of intensive coding effort. That was when ViaBTC was officially launched and the team started to grow. Fortunately, ViaBTC has received Bitmain's investment and support, and has developed rapidly.
In 2017, we started to enter the field of exchanges and launched ViaBTC exchange. Since we took the lead in supporting Bitcoin Cash, it developed very fast. However, it had to be closed due to policy reasons. After that, we relaunched CoinEx, a new cryptocurrency trading platform for global users. It has been more than 2 years since CoinEx was launched, and we have listed hundreds of high-quality tokens and supported a variety of derivative tradings. At the same time, we also developed and launched CoinEx Chain in 2019, a public chain designed for DEX.
3. How do you think technology is developing the Finance Sector?
In recent years, the Fintech industry has shown explosive development thanks to the Internet and mobile technology. It affects people's daily life in many aspects and has profoundly changed the entire financial industry. Fintech has been applied in many ways, such as crowdfunding, online customer acquisition, e-wallets, P2P lending, mobile payment, personal financial management, private financial management, as well as cryptocurrencies. Nowadays, more and more people are using convenient tools such as mobile payment, e-wallet, and bank APP, and users' offline demand is declining.
Recognizing the huge potential of financial technology, many companies, both in the finance or technology industry, are also constantly exploring opportunities in this new market.
4. How has introduction of cryptocurrency contributed in the revolution of financial sector?
The most important impact of cryptocurrency on the financial sector is their underlying technology – the blockchain.
Because of the features of decentralization, traceability, and non-tampering, blockchain technology has a huge potential in the financial sector and can be applied in may areas, including central bank digital currency, clearing and settlement, trade finance, supply chain finance, digital bills, and credit investigation.
In these application scenarios, the use of blockchain can bridge the trust and information gap between parties at a low cost, making the transaction more secure and reliable, and effectively improving the operating efficiency of financial institutions.
Nowadays, 1.7 million people in the world have no bank accounts; however, among them, two thirds are smartphone users with huge demands for financial services. I'm surprised with those numbers when I first learned about that. However, blockchain will empower Defi applications' development and popularization, not only help more companies to seize the huge market opportunity, but also to bring lasting transformations and improvements in people's lives.
So in conclusion, I'm sure in the future, Blockchain technology will reshape the financial industry.
5. How do you define your decentralized trading platform?
I always believe that DEX is the evolutionary direction of the blockchain exchange, and it will reshape the exchange industry through decentralization. DEX will become the cornerstone and make the future of blockchain brighter.
CoinEx DEX is a true DEX with full open source and full community governance, as well as without depending on official nodes, websites, wallets, etc. It provides free trading without permission. What's more, CoinEx DEX provides a great and convenient user experience.
Recently, the Chinese exchange Fcoin closed down, and owes users lots of money. It without doubt is a nightmare. However, on DEX users are able to in charge of their own private keys and assets all by themselves. Their assets are more safe and secure. It's a huge advantage compared to centralized exchange.
6. We recently covered the news of the launch of Support Program, can you explain how will it encourage community development?
We are always committed to building a supportive ecosystem and nurturing a sense of community. Each quarter, the CoinEx Chain Foundation will provide up to three million CET in total to help qualified applicants focus on product research and development (R&D), community construction and content publicity. By supporting some best ideas of community development, we are sure that it will accelerate a long-lasting meaningful impact on the community and will unleash the power and potential of different parties in this industry.
In the future, we will launch different events to attract more good developers to join our community, and to encourage them to develop good applications which will contribute to the community development.
7. Can you explain how your recently launched two tokens will anchor to BTC and BCH will help in optimizing the performance of your business?
Stablecoins collateralized by fiat and types of collateralization techniques are very popular and is a trend in the blockchain industry now. BTC-CoinExChain and BCH-CoinExChain are tokens based on CoinEx Chain anchored with original BTC and BCH at a ratio of 1:1, and their value is supported by the original tokens BTC and BCH reserved in CoinEx and accepted by CoinEx. On CoinEx Chain, BTC-CoinExChain and BCH-CoinExChain will be circulated and traded in the name of BTC and BCH respectively.
The launch of these two tokens will help to ensure the CoinEx ecosystem to develop in a sustainable way and facilitate the vision of "building a world-class encrypted digital asset trading platform" , as well as contribute to the prosperity of the CoinEx Chain ecosystem.
8. What advice would you like to give to the Startups?
For startups, I think the most important things are to discover the real needs and make a clear profit model, as well as continuously to polish your product and improve capabilities to meet the needs of these people
As each company faces different situations, it is difficult to give specific advice. However, regarding the common issues of business operations, I think startups also need to focus on these aspects:
The first is to ensure the stability of the company's cash flow. This is without doubt the most important one; the second is to systematically adjust the organization's structure, and ensure the efficiency of the team; and the last is to foster a culture of transparency and open communication.
Entrepreneurship is a process of continuous growth, thinking and improvement. Lay a solid foundation, and the time will come for you to shine.
9. Which Startup technology has grabbed your attention?
I fly a lot due to conference, meetings and family vacations, so I always need make schedules for my family and myself . During that process, I found a startup called Instalocate, which integrates blockchain with AI to create personalized travel schedules and help delayed flyers get compensation from airlines. Flight delays are so common these days! What's even more interesting is that, it's said that the founders, a married couple, had this idea because once their flight to Delhi during festive season was delayed for six hours.
10. Can you tell us about your team and how it supports you?
We have attracted increasing outstanding talents for the past year, and have grown to a stable team with around 100 members, including talents in R&D, product, marketing, etc. Most of the team members are from top-tier companies in China, and with experience in the blockchain industry. We have the same ambition and share the same goal, that's to make the world better through blockchain.
In September 2019, Eddie Jiang, former Marketing Director at Bitmain, officially joined the CoinEx team. Eddie is an all-rounder with extensive experience in market operation and team management. I believe with him working with us, CoinEx will make greater breakthroughs in team management and brand building in the future.
At present, we also have established a complete team management system, incentive system and training system. I always believe that only when the team members are united as one and all do a great job, can we provide better services for users.
11. What are the major developments you are planning, in recent time?
For CoinEx Chain, one of our major focus in 2020 is the Smart Chain and we have released our rodamap in January.
In the second quarter, CoinEx Chain will support cross-chain protocol in April and complete the development of the Smart Chain virtual machine, and plans to support the transfer of tokens between DEX and the Smart Chain in May so that users will be free to trade CET on the two chains. Meanwhile, a new version of the DEX wallet will be launched.
In August, the Testnet of the Smart Chain will be launched. CoinEx DEX will be undergoing a "Jerusalem" hard fork upgrade in September for smart contract token transactions.
In October, the Mainnet of the Smart Chain will be launched online and tested. In December, the Smart Chain virtual machine will support the Cosmos ecosystem, which means that CoinEx Chain's smart contract can support all public chains developed on the Cosmos protocol.
12. Which Book are you reading these days?
As a programmer, I don't have much experience in management. Now I'm managing a company with hundreds of people, so I need to learn more management skills, and recently I'm mainly reading some management books. For example, In Search of Excellence, which is called the Management Bible. In addition, I also read some biographies of famous entrepreneurs, such as Silicon Valley Iron Man, which walks me through the adventure life of legendary entrepreneur Elon Musk.
13. We have heard that you have a very joyful work culture, we won't mind having a look at some of the pictures?
I once said that I want to create a company that is very fun, interesting, and awesome where some great minds are working on something exciting together. Our colleagues are mostly very young and energetic, full of great ideas and sense of humor. Work hard, play harder is our motto, for example, we have birthday party every month and each department organizes many different team building activities.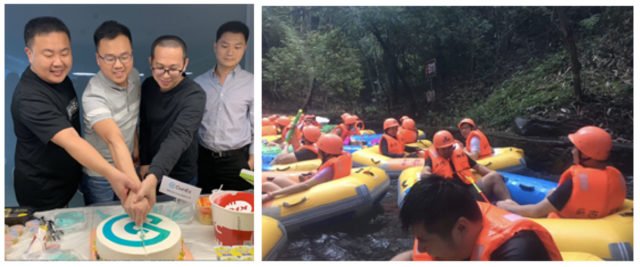 14. Can you give us a glance of the applications you use on your phone?
Most of the applications on my phone are digital currency related, including blockchain industry information apps, trading platform apps, various digital currency apps, etc. My most commonly used app of market information is AiCoin, which is very professional in the market K line. The wallet app I use most often is TrustWallet. And for the exchange app, of course I use CoinEx.
I also often use social media apps, such as Twitter and YouTube, to read news. These software are blocked by the Chinese government, so I have to install a proxy software to bypass this restriction. For Chinese media, I use Weibo and Zhihu everyday.
Last but not least, the WeChat, a must-have app in China. It is not just a chat app, but also a way of life. It can do almost anything, including socializing, payment, shopping and so on. I also use Telegram, which is an important channel to communicate with overseas communities, and its most important feature is that it is encrypted.