Many traditional solutions for sending and receiving money (whether it be making payments to companies or sending money overseas to family) are now inefficient. They take a long time, are hard to track, and can be expensive. Sometimes, fees can eat away at a large portion of the transaction, barely making it worth sending at all. This is discouraging for those who must often use these solutions for one reason or another.
Thankfully, instant payments are now a possibility. They make it much easier and quicker to send and receive money no matter where you are. While there are instant payment solutions out there, many believe that cryptocurrency is the future of affordable and lightning-fast transactions. 
But which cryptocurrencies are taking the lead when it comes to instant payments? Well, this article is going to take a closer look at a few of them.
XRP
While all crypto assets are doing their part to contribute to the future of digital payments, XRP is certainly taking the lead amongst them all. Besides, it is cheap enough in terms of the XRP/USD price. Ripple, the platform behind XRP, processes a ton of transactions every day. Its ultimate goal as a crypto platform is to make it easy and affordable to make global transactions. It is currently among the largest and most popular cryptocurrencies and has one of the best real-life use cases.
In addition to processing many transactions, Ripple also powers banks and financial institutions. This makes it the obvious choice to take the lead when it comes to instant payments and transactions. With Ripple, banks, companies, and other organizations could make it incredibly fast and affordable to send money across the world with ease. The platform has proved to be reliable, and it is constantly adding new partnerships and services throughout the world.
Nano 
Nano is all about creating digital money that is ready for the modern world. They believe digital cash should be instant and easy-to-use. It aims to make the world an equal place as Nano is open to all and incredibly simple to integrate. The instant payment cryptocurrency platform is fee-less and eco-friendly as it doesn't rely on mining. It is sustainable over time as a result.
It provides an easy way for people around the world to have a digital money solution that can connect them with the rest of the global economy. This accessibility makes it very popular, as well as the fact that it is a simple platform from top to bottom. Whether you are transferring money to another person on the other side of the world or buying items from a store, Nano transactions will be completed instantly, instead of having to wait multiple days.
Monero
Monero is another cryptocurrency asset that helps develop the future of fast and simple payments. There are no long holding periods with Monero, and transactions can be completed in an instant. This goes for no matter where you are in the world.
However, in addition to being great for quick payments or transfers of value, Monero is also completely private. While many cryptocurrency assets claim to take privacy and anonymity seriously, few do it as efficiently as Monero. No one else is able to see your balances or the transactions you have made. Due to ring signatures, the crypto asset is completely private and decentralized, as well as untraceable. If you value your privacy when it comes to digital money and lightning-fast payments, Monero is certainly an option to consider.
STK Token
The STK token operates on the Stack platform, which is a finance platform that aims to be an alternative to online banking. The idea is that using your money should be free. The STK token builds off of this concept to allow for instant cryptocurrency payments and transactions. It is built on Ethereum, and it will allow people from all over the world to transact easily at many different stores and merchants with crypto coins. So, you don't have to endure all of the painstaking exchange processes that are commonly dealt with.
The team hopes to make using cryptocurrency as simple, easy, quick, and affordable as making payments with credit or debit cards. It will provide an immediate exchange for people to access, which will help make everyday purchases with cryptocurrency more viable than ever, both in-store and online. The STK token could be the future as the team wants to break down the barriers when it comes to usability among cryptocurrencies, especially in terms of quick and affordable payments.
Steem
Almost everyone familiar with cryptocurrency knows about Ethereum and Bitcoin. But, did you know that Steem actually processes transactions more quickly than both of them combined? Well, it's true. Not only that, but its smart bandwidth allocation allows for free transactions, and these transactions can be processed every three seconds. This, in turn, allows for near-instant payments.
Steem is a social blockchain that helps not only grow online communities but also assist in generating revenue for users. They aim to reward people for sharing content, and it's the only blockchain that does this. It flips the traditional model of social media on its head, rewarding the content creators of the platform. 
Steem can be used to build similar social media platforms, grow existing communities, and help reward people for what they create. So, while the instant payment viability of the platform is largely reserved for the users of the apps, this is one of the most exciting advancements in the space. The Steem technology could certainly be the future of instant payments.
In conclusion, all of these cryptocurrency assets could help usher in the future of instant payments. Any of the above platforms has the potential to become a simple, affordable, and efficient way of making payments and transferring money. So, cryptocurrency is, certainly, the future of the industry.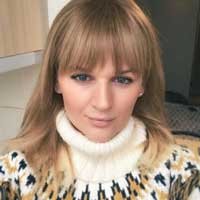 As an expert on Bitcoin-related topics, I've found myself as a Journalist at Cex.io - cryptocurrency exchange. I'm working on articles related to blockchain security, bitcoin purchase guides or bitcoin regulations in different countries.
Mary Ann Callahan